Trout feeds for use in RAS – Alltech Coppens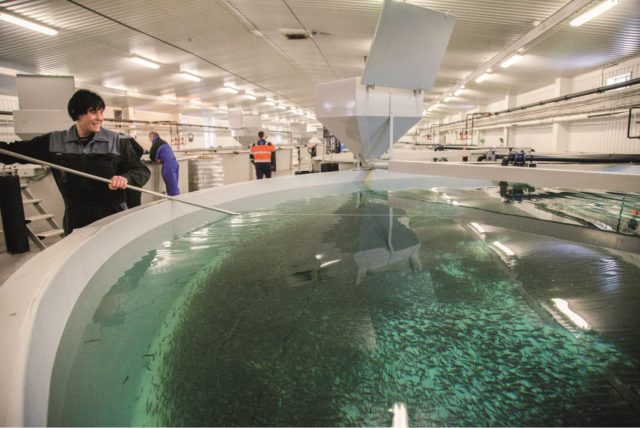 For many years Alltech Coppens has been committed to RAS farming. The company conducts research with 4 P's in mind. These are Palatability, Performance, Pollution Control and Planet. This means that customers avail of feeds developed to be tasty for fish, that perform at the highest level with minimal waste products and are profitable whilst being sustainable.
Trout feeds for use in RAS have to meet much stricter criteria than feeds for any other type of farming.
RAS feed needs to consist of uniform, firm and durable pellets because they are mostly transported mechanically around the farm. This physical process puts friction on the pellets, which can lead to broken pellets and dust which is undesirable. The pellets also need to be water stable so that they do not disintegrate quickly when uneaten. Uneaten, whole, pellets can easily be taken out by the mechanical filters.
A high palatability facilitates a high feed intake and a high growth rate. Furthermore RAS feed needs to be highly digestible, as this promotes a high feed utilisation and helps to minimise the amount of faeces that the fish will produce. By choosing the correct DP/DE a low ammonia excretion can be achieved in combination with fast growth and a low FCR. At the same time, the biofilter can handle more feed on a daily basis.
The amount of water required to produce fish in RAS is much lower than in traditional systems. RAS can also be located close to the market, significantly reducing transportation costs and the carbon footprint.
Proper design and management of RAS, optimum RAS feed quality and feeding management are essential for successful and sustainable fish production. In this way, we take proper care of our planet and contribute to a Planet of Plenty™.
To get a greater insight into the optimal operation and function of a RAS, it is crucial to have an understanding of the fundamentals. Find out more at www.alltechcoppens.com/ras-guide