Smart Thinking – Vaki SmartFlow and new Smart Grader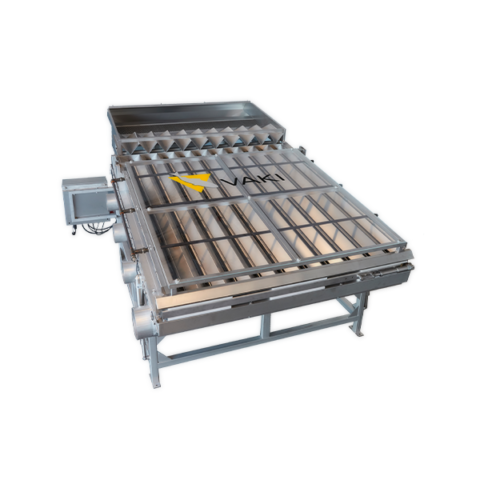 Smart Thinking
SmartFlow and the new Smart Grader are the next generation in technical innovation, to improve the operational efficiency on-site.
VAKI's latest innovative development is the VAKI Smart Grader and the SmartFlow System. The SmartFlow System allows the farmer to simultaneously control and monitor the complete pumping, grading and counting process from one device. The SmartFlow System gathers and stores information on the selection of size and quantity for all the graded and counted fish.
With the recent advances in machine to machine (M2M) technology and the Internet of Things (IoT), VAKI has integrated the two technologies and applied them to the SmartFlow System. Advancements enable the machines to communicate, collect, store, exchange and report data autonomously. Minimal human involvement or intervention is required, as the machines 'talk' to each other and work together to make decisions and perform tasks.
The most integral part of the VAKI SmartFlow System is the ability to optimise and maximise the accuracy and precision of the pumping, grading and counting process through a remote, connectivity powered collection of data.
The VAKI Smart Grader is a 10-track grader and has a uniquely designed inlet which allows the fish to be evenly distributed across the width of the grader, thus utilising all the 10 tracks for maximum results.
From the touch screen, the rotation speed of the rollers can be finely controlled and the inclination of the main sorting unit raised from 0 – 10° electronically. By integrating a feedback loop between the grader and the counter, both the opening and rotation settings of the grader can be adjusted automatically to reach the optimal quantity of fish in each category. The opening for each grade is displayed on a digital display.
VAKI's Marketing Manager Bjorg Ormsley Asgeirdottir explained the thinking behind the technology:
'As a company, we are setting new standards and providing cutting edge technology in the aquaculture industry. The accurate reporting of information that VAKI's products provide, has given the industry the ability to maximise operational efficiency, improve resource planning and optimise decision making'.