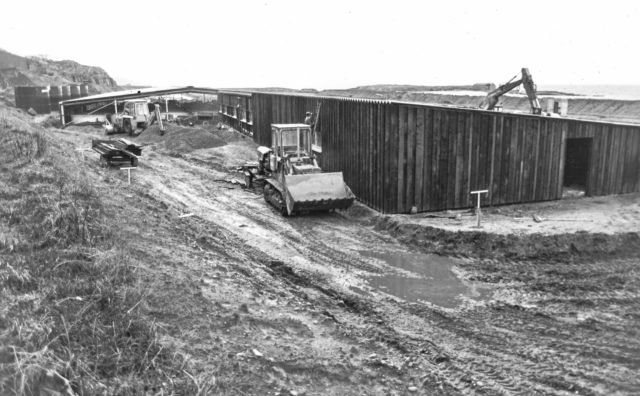 Landcatch's heritage goes back to the earliest days of salmon farming
While the marine salmon farming industry in Scotland is celebrating its 50-year anniversary, egg and smolt producer Landcatch can trace its origins back much further, to the early 20th Century and a visionary Highland laird: Col Sir James Lithgow.
Landcatch, the salmon genetic brand of Hendrix Genetics, produces eggs and smolts for customers – who are primarily in Scotland – from its principal sites at Ormsary, Clachbreac and Gairloch, all in Scotland. Its sister company, Hendrix Genetics Aqua S.A. in Chile serves the rest of the world with high-quality salmon genetics. The company uses the latest advances in genomics to select and breed fish to meet the highest standards.
The story began in 1919 when Colonel Lithgow established a hydro-electric scheme at Ormsary House, making it the first house in Britain to run entirely on electricity from renewable sources. As an offshoot from the hydro scheme, a hatchery was built to help stock the local burn with salmon.
In the 1970s the old hydro system was replaced with a larger salmon hatchery and smolt unit, fed with fresh water from another brand new hydro scheme.
The smolt unit was set up in its own covered building with hatchery and offices en suite, designed to be both fish and operator friendly with many novel features. These were quickly copied by others in an emerging industry which, at the time, had a poor understanding of physics and hydraulics.
The first "Swirlpool" seawater tanks in 1981 were 12 meters in diameter and are still in use today, supplemented by 25 meters of vitreous protected steel farm slurry tanks. A continuous supply of clean sea water remains at the heart of the technology. This is made possible by the unusual tidal conditions at the site, which has the lowest mean tidal range in the UK and where the direction of current past Ormsary is inherently always south. The seawater pumping station is located to the north in a sheltered place, separated from the outfall discharge in the south bay by a long peninsula.
In 1985, Saga Seafood – a company created by Thor Mowinkle, who with his father had co-founded Mowi – acquired a 50% stake in Landcatch. The company started growing salmon in sea cages in Loch Caolisport and Loch Fyne, with a packing station in Tarbert. Lithgow bought out all the interest in Landcatch in the mid-1990s. At this point Landcatch exited from production of salmon for the table to concentrate on supplying smolts and eggs to salmon farmers. In order to do so, the company acquired facilities in Gairloch and Foyers, and a combined hydro scheme and smolt farm was built at Clachbreac.
By now the company was selling eggs and smolts to customers as far away as South Africa, North Korea, Russia and Chile. Landcatch Chile was set up in 1998, although the introduction of a ban on imported eggs following outbreaks of infectious salmon anaemia led to the sale of the subsidiary in 2009.
In 2011, Lithgows sold Landcatch to Hendrix Genetics, a business at the cutting edge of genetics and selection in sustainable animal breeding. The Lithgow family now focuses on renewable energy at Ormsary and Jura, including wind turbines as well as the hydro plant.
It was the first foray into aquaculture for Hendrix Genetics, which now also breeds trout and shrimp as well as salmon. As part of a multi-species group, Landcatch now enjoys the benefits, not only of leading R&D and infrastructure, but also of collaboration in ideas and technology.
To take a couple of examples of how this technology has helped the industry: first, the R&D team at Hendrix Genetics (at the time, Landcatch Natural selection) discovered a very strong indicator for IPN (Infectious Pancreatic Necrosis) resistance. This means that Hendrix Genetics can identify and use elite broodstock that are resistant to IPN.
Another first for Hendrix Genetics was the SNP (Single Nucleotide Polymorphisms) chip. This piece of genomic technology is used to analyse variations in DNA sequences, which can be used as biological markers to locate genes associated with various traits including disease resistance and use them as the basis for selection.
Landcatch also takes the training and development of its staff seriously, and has been accredited under the Investors in People and Investors in Young People schemes.
From small beginnings, Landcatch has grown into a business helping producers around the world to grow high-quality, disease-resistant fish.
Jarl van den Berg, General Manager, says: "We might have changed owners, missions and visions but one thing is unchanged: our pride, love and care for farming our fish. All this couldn't have been achieved without the dedication of all our team members. Having been in business for 40 years, I am proud to see that Landcatch has been on the resumés of many industry colleagues.
"I look forward to what the future will bring. We will continue the trend to develop the salmon aquaculture industry by working together with friends and colleagues in Scotland, the wider Hendrix Genetics team and, of course, all our customers along the west coast and isles."
https://salmon.hendrix-genetics.co.uk/en/ www.hendrix-genetics.com





Featured: Smolt Building Construction.