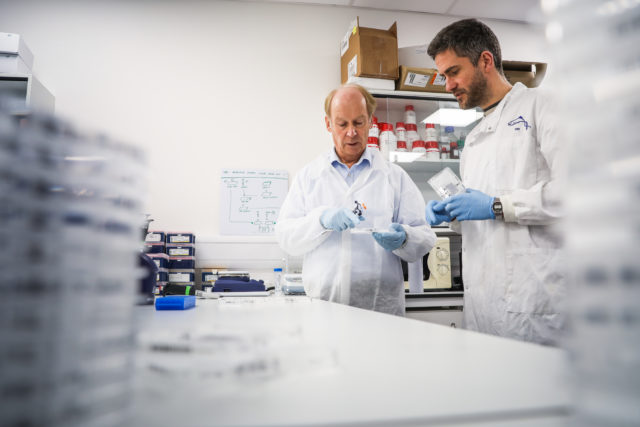 New frontier in global aquaculture requires a new approach to selective breeding
One of my first experiences of working in the aquaculture industry was on a tilapia farm in Cambridgeshire, thousands of miles from anywhere a tilapia may normally call home. Those were the early days of recirculating aquaculture systems (RAS) – it was the beginning of a new frontier that was technically and economically risky. Many tried and many failed. Today RAS operations are succeeding on a global scale. Coldwater fish like Atlantic salmon are being produced in the heat of Miami, and China. Yellowtail kingfish are being grown in northern Europe – even vannamei shrimp are being farmed in Scotland.
Recirculation technology is inherently complicated. At the heart of the systems are the mechanical, biological and chemical filtration of water. Mechanical systems for aeration, degassing and waste removal are also vital for ensuring a healthy and clean tasting product. There is a lot that can go wrong, but with rapid advances in technology, especially in the informatics and monitoring space, these risks are being overcome and RAS is gaining a strong position in the future of aquaculture. As aquaculture diversifies, species selection is important. A good candidate species for RAS has reliable market demand with a high value, relatively short life cycle and ready acceptance of dry feeds.
RAS brings a host of benefits over open cage aquaculture. Biosecurity is tight – it is much easier to control the entry of pathogens into the system when it is in a building on industrial land. It is almost impossible for fish to escape and cause environmental issues, and the release of parasites in to wild populations is not an issue with RAS. Pollution is not a problem – it is simply collected and can be converted into valuable nutrient by-products for other industries. RAS facilities bring the product close to market, meaning fresher supply, with lower food miles – a big advance in quality and sustainability for the industry.
In open systems, Atlantic salmon are bombarded by pathogen challenges of one sort or another on a daily basis resulting in production losses, animal welfare issues, and significant costs associated with vaccination, medication and the treatment of residues. An important component of the armoury to combat disease is genetic selection for tolerance against specific pathogens such as sea lice or the infectious agents that cause IPN, ISA and AGD disease.
Not surprisingly, disease resistance and growth have had top priority in the long running genetic improvement programmes that have contributed so much to the development of the industry. Small improvements made in each generation are cumulative resulting in large gains over time. However, RAS does away with the problem of pathogens and parasites and makes past gains in disease tolerance redundant. As in so many other areas RAS will prove to be a truly disruptive technology. Thus, whilst growth and feed efficiency will always be important traits for improvement, top priorities for RAS will include tolerance to stress and high CO2, fillet yield and flesh quality..
For RAS investments to succeed, new genetic lines will need to be developed, selecting animals that perform optimally under the unique set of conditions, and focussing improvement on the right traits, rather than growing 'off the shelf' juveniles from genetic lines developed for cage culture.
Fortunately, today, the cost of genomic sequencing and genotyping is lower than ever before, meaning individual aquaculture companies of almost any scale can afford to run their own genetic breeding programme. Doing the whole process in house is a tall order, given the highly specialist nature of the science, but companies like Xelect have assembled expert teams that work together with hatcheries to deliver the latest genetic management.
By focussing on the selective breeding of highly tailored strains that suit their unique environmental conditions and production requirements, RAS enterprises will be able to advance into a profitable and environmentally sustainable future.
Featured image: Xelect CEO Prof. Ian Johnston and Operations Director Tom Ashton at their custom built laboratory in Scotland