MPI establishes firm foothold in Scottish aquaculture market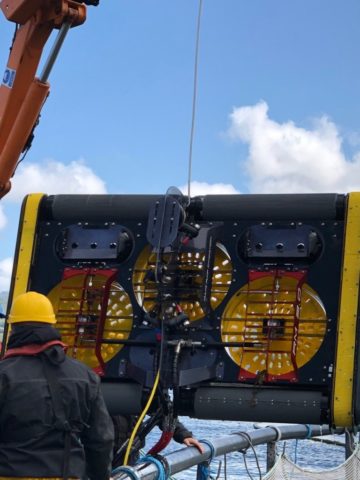 Leading robotic cage cleaning company invests in servicing its growing Scottish client base
FOR more than a decade the cage cleaning technology from Norwegian firm MPI (Multi Pump Innovation) has been recognised by leading producers of farmed fish as being the number one in the market, evidenced by the fact that over 750 MPI systems are currently employed on fish farms of all sizes worldwide.
With constant investment in its R&D division to bring even greater speed and stronger technology to its customers, MPI initially established itself in this sector with the basic RONC remote controlled system. In the past two years, it has introduced the hugely successful 'Racemaster' – a high speed and user friendly remote controlled washing and cleaning robot that can remove all marine growth from fish cages in the impressive time scale of between 45 and 75 minutes per cage (depending on the state of the cage).
Already proving its worth for some of the world's top aquaculture companies, the Racemaster continues to be in strong demand, and some 50 Racemaster systems have already been delivered to farm sites in every corner of the globe, where they are producing amazing results for their owners.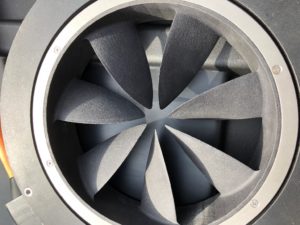 And, in its strategy to constantly provide customers with more efficient and faster systems, MPI recently added to its range with the exciting new 'JetMaster' – a rim thruster, beltless remote controlled robotic cleaner.
The prototype, which was launched amid much interest from the international aquaculture industry at this year's Aqua Nor, is currently undergoing extensive trials and fine tuning of minor 'teething problems' in Norway, with the aim of being available on the market in early 2020. Such is the interest in the JetMaster that several system units are already on the 'pre-order' books from several leading fish farm companies.
Investing in Scotland's aquaculture industry
With Scotland one of the fastest growing markets for MPI's products, the company is currently investing in a dedicated depot, parts warehouse and service engineers in Fort William.
This programme of investment, and the formation of MPI Scotland Ltd as a registered company, comes about as a result of MPI strengthening its market share in Scotland.
This includes the recent announcement of a new service agreement with the Scottish Salmon Company to service all of its cleaning units, as well as a new service agreement with Mowi Scotland to service 17 out of its 30 units.
'MPI has up until now catered for the Scottish and Irish markets with service mechanics travelling from Norway, in addition to a mechanic placed in England,' explained MPI CEO Kåre Myrvåg.
'But to be in a position to serve the market better, we are now changing the structure by establishing a separate company with an office, warehouse and building for parts stock in Fort William and hiring local mechanics,' he said.
The whole idea will reduce the lead time for the customers waiting for replacement parts and/or a service engineer, he added.
The warehouse will stock most of the normal parts needed for MPI equipment operation and, by reducing shipping time and customs clearance, this will greatly improve MPI's service in Scotland.
A similar set-up was previously established by MPI in Chile two years ago and has proven to be a great success for customers there.
MPI Scotland Ltd has now signed a contract to hire a country manager in Scotland (with the successful candidate to be announced next month) and, in addition, MPI Norway has permanently transferred one of its service engineers, Mark Mountfield, from England to be based at Fort William.
It is also envisaged that additional mechanics will be hired for the Fort William base before the end of 2019, with the interview process for candidates already underway.