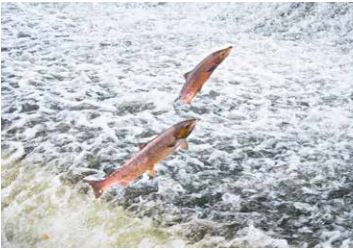 RedMeal is a whole Haematococcus pluvialis meal rich in Astaxanthin and is a great source of energy, proteins, carbohydrates, essential fatty acids, vitamins, nucleotides, and minerals. It provides pigmentation plus a wide range of science-backed benefits such as improving egg quality, increasing reproduction and growth rates, enhancing the immune system and overall health due to its potent antioxidant characteristics.
RedMeal is also perfectly suitable for formulations intended for premium aquaculture such as salmon, trout, and shrimp because it is 100% natural, free of fishmeal or fish oil. Moreover, it can be used compliantly in diets containing non-GMO plant-based proteins and algal DHA.
RedMeal is produced at a GMP certified facility using Atacama Bio's proprietary, cost-effective and sustainable technology.
Caption: Natural Astaxanthin gives salmon their endurance capacity