Ahead of the curve – Steen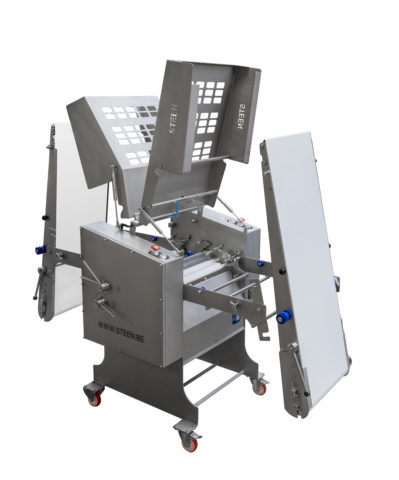 Heralding a new era of skinners
A NEW generation of skinners from Belgian outfit Steen has seen improvements to the company's original techniques which keep it ahead of the game in relation to current health and hygiene regulations.
In practice, both the ST700T table skinner and ST700V automatic skinning machine have knives which can be set and locked at different cutting heights so more fish can be processed on the same machine to enable deep skinning.
The advantage of the technique used is that the knife can also be taken out of the machine for better cleaning or to be replaced by another knife type.
In addition, the machines can be dismantled so that hard-to-reach areas are exposed for easier and more thorough cleaning.
With the ST700T, the back plate and knife can be removed, while the infeed plate opens up. As for the ST700V, the top unit, the knife and the conveyor belts can be removed from the machine and the infeed and outfeed belts can be folded open.
The fact that no tools are needed to do any of this is part of the innovative concept of the whole series.
Steen has also developed a mobile unit for these machines, on which all the components can be placed to ensure a safe and clean work environment and to give easy access for thorough cleaning.
As well as these advantages, there are options available to make use easier and faster. For the ST700T, for instance, an optional outfeed plate, table, water collector and skin separator, additional blade and more are available.
For the ST700V, options include long and short in-and outfeed belt, an infeed table and a speed regulator to optimize production.
Feature Caption: The ST700V automatic skinning machine