Adisseo's customer event at Aquaculture Europe 2019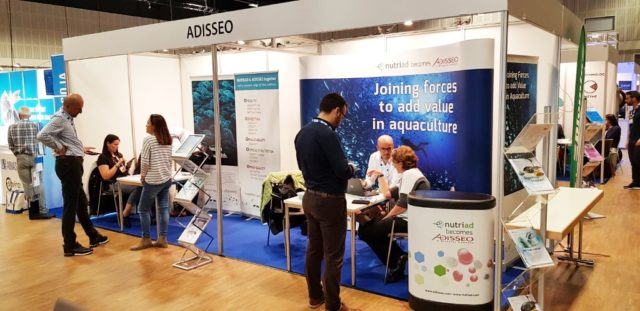 Adisseo's customer event at Aquaculture Europe 2019 – Joining Forces to add value in Aquaculture – was attended by about 100 participants, including fish integrators and fish feed producers from all over the EMEA region. 'This seminar has become a tradition during the annual Aquaculture Europe conference,' said Dr Peter Coutteau, Adisseo's Business Unit Aquaculture director.
'It serves as a platform to share information with our aquaculture customers from Europe, although the number of participants from the Middle East, Asia and Latin America is growing. The audience represents well over 50 per cent of the marine fish production in the Mediterranean region.'
Dr Waldo Nuez, lead scientist for the BU Aquaculture, opened the seminar with a update on research results supporting the broad range of feed additives offered by Adisseo to the aquaculture market. The emphasis was on the core programmes on disease prevention and digestive/metabolic enhancement. Adriana Casillas, vice president of the International Platform of Insects for Food and Feed (IPIFF), talked about insect protein for sustainable aquaculture. Amin Mansouri, technical marketing manager at Arona P.J.S. Co, Iran, reported the aquafeed industry in Iran. And Dr Panos Varvarigos from consultancy firm VetCare, gave an overview of the current health challenges and management strategies to prevent disease in Mediterranean marine fish.
www.nutriad.com
T: +32 52 77 01 30