A day in the life of a Scottish salmon farmer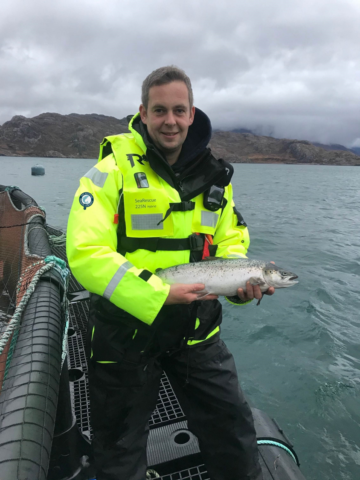 Dougie Macleod, Area Manager for The Scottish Salmon Company (Skye and Mainland)
Describe a normal day in your job
I oversee a team of Marine Site Managers across Skye and the mainland. It is our responsibility to care for our fish when they are in our seawater lochs, managing their feed and ensuring they are healthy.
What skills/qualifications are relevant to a marine role?
It is important to have an interest in aquaculture and fish welfare, and to enjoy working as part of a team. Numeric and IT skills are useful, and an ability to work weekends and flexible hours when needed.
What has been your career path to your current role?
I started at SSC in 2003 as a Harvest Operative with no experience in salmon farming. Over the years I have progressed steadily through various roles and I'm now Area Manager. If you are willing to work hard there are lots of opportunities within SSC.
What are the benefits of working in aquaculture?
One of the main benefits is working in some of the most beautiful parts of Scotland. The freedom of being out on the water in magnificent surroundings is special – not many people have that luxury.
At SSC we are proud to be part of the rural areas in which we live and work. We are engaged with our local communities and are involved in many community events, such as the Shieldaig Regatta and SSC's Isle of Skye Half Marathon. We have a Community Fund where staff can nominate local causes that they are passionate about for funding and to date we've supported over 80 of these.
We offer a relocation allowance to new employees and can also cover household moving costs, the storage of furniture and travel expenses. In some cases, we can offer a temporary rent allowance and we also have our own accommodation at some sites which is available for new employees.
Why would you recommend a career in aquaculture?
It is incredibly rewarding! It's a privilege to work with the team, at the heart of salmon production. I enjoy being part of an industry that is so important to Scotland's economy and heritage.
If you are passionate about working with animals and being outdoors, then I encourage you to think about a career in aquaculture.
What development opportunities are available at The Scottish Salmon Company?
Aquaculture has a variety of jobs, with many roles requiring no previous experience due to the training programmes available.
We have an industry leading training framework and offer a Modern Apprenticeship programme. There are numerous training courses and many opportunities to learn new skills such as boat handling, firefighting, sea survival and first aid.
Caption:
Featured: Dougie Macleod, Area Manager for Skye and Mainland at SSC
Current Opportunities:
Applecross & Appleburn Hatcheries, Kishorn, Strathcarron, Ross-shire:
• Freshwater Site Manager
• Senior Freshwater Operative
• Freshwater Operatives
Loch Torridon Marine Sites, Kenmore, By Sheildaig, Ross-shire:
• Senior Marine Operative
• Marine Operatives
If you are interested in any of these opportunities, please send your CV and a cover letter to workwithus@scottishsalmon.com