Saucy Fish Co gets Waitrose boost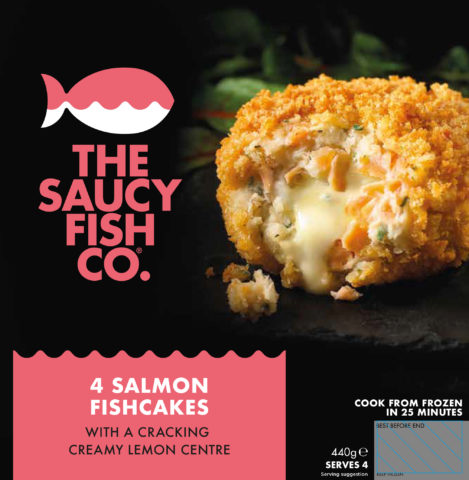 THE Saucy Fish Co. has secured two important new listings for its frozen and chilled ranges in Iceland and Waitrose, providing a welcome boost for both the salmon and whitefish sectors. It is one of two fishcake launches involving salmon.
After a successful launch in The Food Warehouse by Iceland in 2017, Grimsby based Saucy Fish will now see it's frozen fishcakes listed in main estate Iceland stores from May. Flavours include salmon fishcakes with a lemon centre and smoked haddock fish cakes with a vintage Cheddar centre. A number of popular fish and sauce products from its flagship chilled range will be available at Waitrose online from this month.
Anne Laudage, Brand Manager at The Saucy Fish Co. commented:
'We are very excited to see some of our favourite Saucy Fish products become available in Iceland stores nationwide and on Waitrose online. Our fishcakes and fish & sauce products promise to add convenience and flavour to even more dinner plates across the country.
'Our frozen fishcakes prove a great match for Iceland's core customer, offering a tasty meal solution that goes from freezer to fork in thirty minutes and feeds the whole family. We are equally confident that our chilled fish & sauce products will inspire Waitrose customers to cook fish confidently, adding fresh new flavours to their midweek meals.'
Marketing campaigns will be rolled out alongside the two new listings, including geo-targeted paid media activity, influencer partnerships and PR support. These two retailer listings mean more good news for the brand after the successful launch of four new fish & sauce lines in Ocado, early this year.
Meanwhile, The Grimsby salmon company JCS Fish has introduced two innovative new frozen fish cakes to its BigFish™ range: Salmon & Sweet Potato and Thai Salmon & Sweet Potato. The recipes are unique to BigFish and combine sweet potato, herbs and spices with a generous proportion of responsibly sourced salmon. The Thai fish cake is a zestier version with an Eastern Thai seasoning that includes lime, coriander and lemongrass. Both are free of artificial additives and rich in Omega3.
The entire BigFish range was re-launched earlier this month with eye-catching redesigned cardboard packaging that also cut the brand's use of plastic by around 60%.