Go ahead for advanced South Korean salmon farm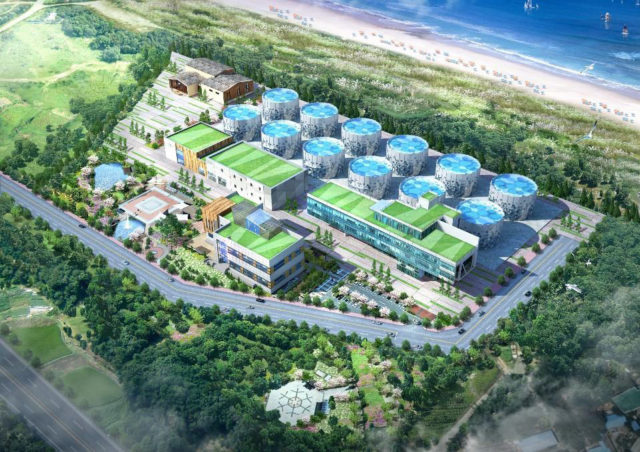 Dongwon Industries, South Korea's largest fishing group, has announced that it intends to go ahead with its plan to enter the aquaculture business by building a large environmentally land based smart salmon farm in the country.
Dongwon is linking up with Norway's Salmon Evolution by investing in the business and using its advanced technology. Work is expected to start within the next few months and, when completed, the £130 million project will be capable of producing up to 20,000 tonnes of salmon a year. The project will be located in Yangyang county in the province of Gangwon. The province forms part of north east South Korea and borders the Sea of Japan and its hostile neighbour, North Korea.
Dongwon Industries said it is planning to grow South Korea's domestic aquaculture industry, 'which has remained at the level of the light industry until now, into a heavy industry level industry through large-scale facility investment and a land salmon farming complex based on cutting-edge new technology'.
The statement added:
'This state-of-the-art facility will incorporate a 'Flow Through System-Reuse' technology and smart construction method based on its Fourth Industrial Revolution technology. The 'seawater circulation' technology is an advanced peel environment onshore aquaculture technology secured by Dongwon Industries through an investment agreement with Norwegian onshore aquaculture company Salmon Evolution in July.'
Unlike conventional aquaculture methods that require periodic total replacement of contaminated farm seawater, only 35 per cent of seawater needs to be replaced, meaning that the remaining 65 per cent can be reused through continuous circulation to maintain a constant aquaculture environment.
Lee Myung-woo, CEO of Dongwon Industries, said:
'During the fierce global food resource war, we have established our own domestic salmon farming complex to secure stable and sustainable fisheries resources. We plan to foster it as Asia's largest fisheries bio-industrial complex in the future.'
Dongwon Industries is currently engaged in conventional fishing, fish processing and the distribution of seafood products. Now it is adding aquaculture to its portfolio – and in a big way.