Provost tastes catch of the Bay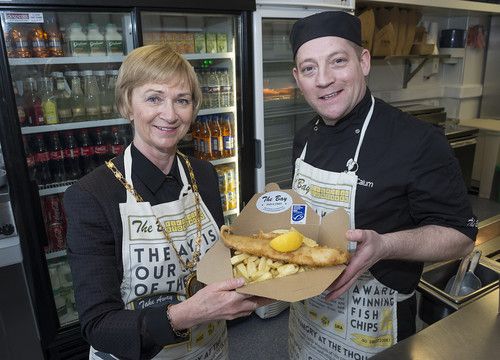 ABERDEENSHIRE Provost Jill Webster visited an award winning fish and chip shop in Scotland's north-east yesterday to highlight the region's producers during Scotland's Year of Food and Drink.
Provost Webster visited the Bay Fish & Chips on Stonehaven's seafront, where she was greeted by the shop's owner Calum Richardson (pictured left with the provost).
She was shown how to fry her own portion of fish and chips and discussed with Calum how social media has been helping them diversify.
Provost Webster said: 'I thoroughly enjoyed cooking my own portion of fish using the delicious batter mixture created by Calum.
'It's incredible to think that the batter is now being used on over 20 oil rigs as well as being sampled by HM Forces.
'My aim this year is to visit food and drink producers across Aberdeenshire to shine a light on the exceptional quality of their produce during the Year of Food and Drink.
'Food and drink is an incredibly important part of the cultural identity and heritage of the north-east and is key in the promotion of the area as a holiday destination.
'Thank you to Calum and everyone at The Bay for having me to visit, I'm really looking forward to trying my own fish frying with the batter they gave me to take away.'
Richardson said: 'It's great to see the provost is doing everything she can to promote Scotland's Year of Food and Drink.
'It was a pleasure to welcome her into the Bay to talk through everything we do, to meet the team and most importantly to cook her very own award winning fish supper.'
Some 89 per cent of ingredients used by Richardson are sourced within a 50-mile radius and all the fish used in the shop is sustainable, in line with the Marine Conservation Society standards.
All packaging used is compostable, including the meal boxes, which are made from vegetable and plant by-products.
The Year of Food and Drink is a Scottish government initiative led in partnership by EventScotland, VisitScotland and Scotland Food and Drink.
Its aim is to spotlight, celebrate and promote Scotland's natural larder and quality produce to residents and visitors.