Norway brings fish and chip shops on board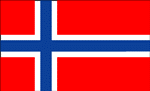 THE UK fish and chip shop industry is forging ever closer ties with Norway. A recent Frozen-At-Sea conference gave Norwegian Seafood the perfect opportunity to announce the launch of a new venture called Union Norge.
Union Norge is an innovative programme that will unite UK fish and chip shops which are dedicated to serving sustainable, quality Norwegian frozen-at-sea cod.

The objectives of Union Norge are to drive footfall to these outlets, educate people about the provenance of the Norwegian cod and haddock they sell, and encourage repeat purchase.
Over the last two years, fried fish shop owners from Britain have been invited to Norway to talk to fishermen about the sustainability of cod from the region and go on board some of the country's latest trawlers.
They are then able to take their message back to their customers in the UK. This will all be achieved thanks to a bespoke campaign, which will include posters, leaflets, loyalty cards with reward incentives, a national public relations campaign, a website and branded instore merchandise.
The Norwegian Seafood Council's UK director, Jack-Robert Møller, said: 'It's very exciting for us to be at the start of a campaign which we hope will strengthen the fish and chip category by connecting like-minded retailers within the industry, rewarding them for the freshness and quality of the seafood they serve.'
Meanwhile, a key objective for the Norwegian Seafood Council this year is to raise the profile of the Norge brand in the UK, and hence drive preference and frequency of consumption of Norwegian seafood.
It has landed the rights to become the official sponsor of the Good Food TV channel's 'Cooking Inspirations' strand of programming in 2015.