Mowi unveils new products at Boston expo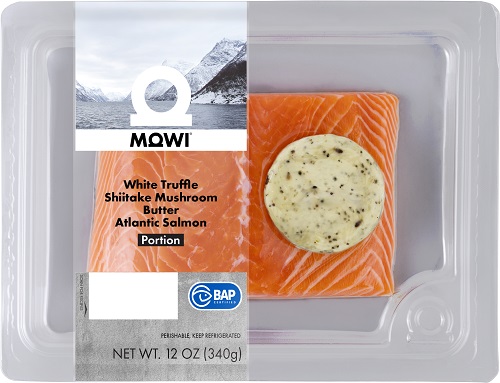 Mowi has chosen the key trade show Seafood Expo North America to launch a number of new consumer products.
Three years after the launch of the Mowi brand – at the height of the pandemic – the company now has more than 20 salmon products ranging from fresh skin-packed hot and cold and breaded fish on offer.
It said the Seafood Expo North America, which is being held in Boston and is the largest such event in the US, was the perfect occasion to celebrate the brand's trajectory.
This year, Mowi introduced Atlantic salmon portions to US consumers which, it says, brings a variety of flavoured butter pucks to enhance the already delicious flavour of salmon.
This new line was unveiled in the New Product Showcase Exhibitor segment at Seafood Expo North America, which closes today.
Diana Dumet, Marketing Director at Mowi Americas Consumer Products said: "With the Mowi brand, we want consumers to recognize the bounties of farm-raised Atlantic salmon and encourage them to try the extensive variety of our product line.
"US Consumers enjoy salmon for many different occasions: as an everyday meal and as an indulging experience made for a special occasion. In the similar way that some consumers choose a different quality of their favourite protein for entertaining vs an everyday home meal, Mowi has expanded its horizons to meet different price points and eating occasions."
Joe Fidalgo, Managing Director Mowi Americas Consumer Products, said: "Mowi is proud to offer product that has 'No smell-No mess' and consumers can easily grab-and-go from our retail partners' seafood shelves.
"While Seafood in the retail space continues to acquire shelf space from other protein options, we want to thank those customers that opened the doors to the Mowi Brand and have proven to be a true partner to educate consumers about seafood.
"We are proud of partnerships that focus on offering the variety that consumers request, selecting quality and uniqueness to raise the bar for the category in the US Market."
Andreas Johler, managing director of Mowi Branding, said Mowi was now present in 18 markets and had achieved its goal becoming a global brand.
"Our goal going forward is to continue growing in our markets together with our customers, continue on the path of de-commoditising the salmon category while bringing value to it and to consumers," he added.