London to stage major seafood festival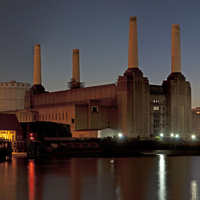 LONDON'S Battersea Power Station is to stage its first ever seafood festival next month after undergoing a major regeneration. And it will be one of the longest events of its kind in the UK, stretching over five days from Wednesday June 20 to Sunday June 24.
Simply called the London Seafood Festival, it has attracted a host of world famous chefs, including Vivek Singh, Mark Hix and Francesco Mazzei. It will stage a number of chef masterclasses, with sessions on shucking oysters and pop-up dishes that celebrate the sea.
The award winning chef Mitch Tonks, who has carried out promotional work for Young's Seafood in the past, plans to take over the kitchen at the Wright Brothers Riverside restaurant at Battersea for an evening to demonstrate his love of fish, with some special dishes.
The Wright Brothers, who are renowned British oyster and shellfish specialists, are also throwing a huge Cajun style Crayfish Boil on the banks of the Thames, offering communal seating, beer, hot sauce and crayfish.
Visitors also have a chance to cruise on the Thames on a London clipper, passing many of London's famous landmarks such as St Paul's Cathedral and Big Ben, while taking part in an oyster master class.
Vivek Singh at the Cinnamon Kitchen, and one of the most successful and respected Indian chefs, is staging a masterclass in combining spices with seafood. He will be preparing fish using various techniques, such as curry grilling and tandoori cooking.