Loch Fyne teams up with garden centre chain in unique deal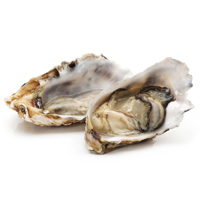 LOCH Fyne Seafood has teamed up with one of Britain's largest garden centre chains in an enterprising deal to sell its products alongside plants, flowers and other horticultural delights.
Visitors to more than 30  Dobbies Garden Centres across the UK will now be able to purchase fresh oysters, mussels and smoked salmon with their clematis and lawnmowers.
This unique partnership was unveiled at the first Loch Fyne seafood counter based at the Dobbies outlet in Livingston, West Lothian.
Under the arrangement, fresh seafood will be regularly delivered to each store and staff, specially trained at the Loch Fyne Oyster Bar and delicatessen in Argyll. They  will be on-hand to advise customers about the seafood products on offer.
Cameron Brown, managing director of Loch Fyne Oysters said, "We are delighted to be working with Dobbies to bring top quality seafood to their stores. Dobbies customers can now go home with smoked salmon or fresh oysters knowing that exactly the same products are being served to diners in the finest hotels in the world. Our responsible farming practices also complement Dobbies' environmentally friendly approach to gardening by sourcing all their plants from the UK."
Archie Stewart, head of food at Dobbies Garden Centres said, "Bringing Loch Fyne seafood into our Livingston Foodhall builds on the high- quality produce offering that Dobbies' customers know and love. We're excited to be taking this first step and look forward to introducing Loch Fyne to more of our stores across the UK in the near future."
Loch Fyne  which takes its name from the loch on the west coast of Scotland started life in 1979 as an oyster farm and once had a chain of seafood restaurants which were later sold to the Greene King pub  group. Today it specialises in a range of quality seafood including oysters, salmon and mussels.
Dobbies is one of Scotland's oldest companies,  founded in 1865 by James Dobbie, who created a seeds business after being awarded the Royal Warrant for Gardeners and Nurserymen to the Royal Household. Its chain of garden centres stretches from Inverness to Kent.