Icelandic Seachill returns to profit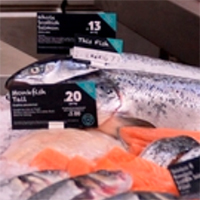 ICELANDIC Seachill, makers of the Saucy Fish range has reported solid results for 2015, with sales and profits up. The company, which also supplies major UK retailers with a wide range of other fish products says revenue from  continuing operations amounted to €536.4million euros  last year  compared to €493.9 million in 2014, a increase of nine per cent. This was  mainly due to increased volume and internal growth in its main markets.
Icelandic Seachill, whose main UK operations are in Grimsby where it employs around 1,400 people , also announced it was back in profit, turning a loss of  €5.4 million  in 2014 to a  profit of €7.9 million last year. The continuing EBITDA amounted to €18.3 in 2015 compared to €12.6 in 2014. The sale of the company's Asian subsidiaries, announced in December, should be completed  within the early part of this year.
Chief executive  Árni Geir Pálsson said: "Looking back on 2015 I am pleased to confirm that all our continuing business are performing on and above budget, delivering a solid profit for the year 2015.
This achievement can all be attributed to good cooperation and great teamwork across all businesses. Revenue increased slightly due to increased volume and internal growth in our main markets. We additionally report strong margins compared to last year. Group balance sheet remains strong with equity ratio at 47.3 per cent at year. "
He added: For 2016, we expect an organic volume growth compared to 2015 and continued strengthening of our relationship with our key customers."
A few weeks earlier  Mr Pálsson said the global whitefish processing industry would be facing changes in years to come in terms of its trade flows, although these changes would not be rapid. He had been speaking at the North Atlantic Seafood Forum in Bergen when he made the comments pointing out that higher labour costs and eventually higher oil prices and interest rates along with currency fluctuations would trigger this shift.
Mr Pálsson  believes processing centres could partly move from Asian countries to European countries like Poland and Spain, where it was closer to the main markets. In the long term high tech driven processing centres could start popping up in Europe, possibly in Grimsby, or in Germany or on the East Coast of the United States. The next few years promised some interesting developments, he added.