Grimsby scenic backdrop for Young's rebrand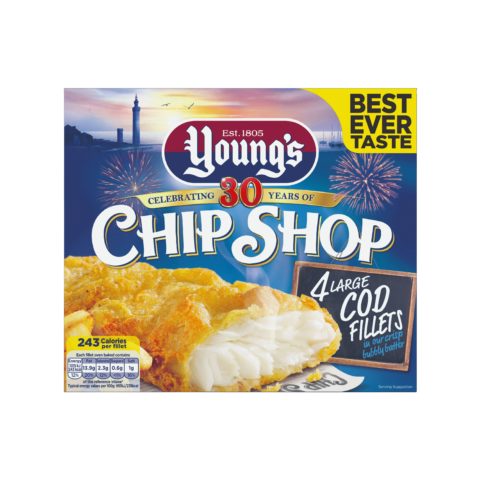 YOUNG'S Seafood is to rebrand its entire range of fish products with Grimsby docks and the nearby beach as a backdrop.
The phased roll out of the rebrand, across all categories with chilled following frozen later on in the year, is the first for the Grimsby based company in over a decade.
Young's said it marks the brand's commitment to quality, leadership and innovation.
Shoppers will first see the branding on the new recipe Chip Shop range, which celebrates 30 years on Britain's supermarket shelves this March.
Young's Chip Shop kicks off a full roll out process, which will extend to all ranges and temperature regimes, including the highly successful Gastro range of restaurant quality fish dishes, now worth £22.3 million.
The new branding will also be applied to Young's fish pie range, following the launch of new and improved recipes last year.
The phased roll out will work through all brands in Young's Frozen portfolio, with the new Young's Master Brand  extending  to the chilled range, which includes more than 40 different fish dishes, later in the year.
Young's said its brand has seen a significant improvement in fortunes of late and is now valued at more than £225 million across both frozen and chilled.
Wayne Hudson, managing director of Young's frozen business, said: 'The Master Brand redesign is the next exciting stage in the evolution of the Young's brand and is both about ensuring that shoppers see a consistency to our branding, irrespective of what segment or temperature regime they interact with.
'It is also about ensuring that the significant investment we have made in the quality of our products is reflected in the quality of our packaging and design.
'We know our consumers are looking for easy to cook, great quality food with health benefits, as well as value for money across the frozen and chilled categories.
'With this in mind, we've worked hard to make sure our products are best in class, and we continue to innovate in these areas to encourage people to eat more fish as part of a healthy diet.
'With our fantastic new media campaign and the new Master Brand design now launched, we are concentrating on executing our exciting innovation platform which launches in the next few weeks.'
Pete Ward, chief executive of Young's Seafood, said: 'It is wonderful to see the Grimsby seascape so beautifully reflected through our Master Brand.
'The history and heritage of our business is important to everyone involved in Young's and we are delighted that, through this new branding, we will communicate that to all our customers when they purchase our frozen and chilled products.'
The move will see a newly designed version of the famous Young's seascape on all products, drawing a visual link between every product and sub-range in the Young's family.
The artwork is based on the Grimsby docks and the coastline between Grimsby and Cleethorpes, where the company has been based for many years, and locals will recognise a depiction of the famous Grimsby Dock Tower.