Fishupdate Briefing Friday October 27th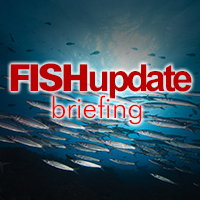 FISHERMAN CHASED BY HUGE TIGER SHARK
A BRITISH spear fisherman has spoken of a terrifying ordeal after he was forced to swim for several miles while being pursued by a large tiger shark.
John Craig, was underwater off Western Australia state Friday when his boat was swept away due to engine problems and strong currents.
He told the BBC that sharks gravitated towards him because stress had raised his heart rate. Mr Craig said: "I could feel that my heart rate was  up because  I was panicking that I had  been left. After  about five or ten minutes of this I put my head in the water to check I was still in the same place, and then at arm's reach, there was this huge four-metre tiger shark.  I turned around and there was another fairly big sandbar whaler, which is another type of shark that you get here."  He told local media it was easily the biggest tiger shark he had seen.
FAROES CELEBRATES GOURMET SUCCESS
THE Faroe Islands, with a population of just 50,000,  has picked up three of out of the seven awards at the recent pan-Nordic food award called Embla which celebrates the best in Scandinavian cuisine.  Chef Leif Sørensen won Food Artisan of the Year for his hand-made fermented fish chips. Farmers Anna and Óli Rubeksen won Food Destination of the Year for their concept known as  'heimablídni', where guests are invited into their home to enjoy traditional homemade Faroese food from their farm. Farmers Eva and Jógvan Jón from Dímunargarður won Ingredient Producer of the Year for their organic products which are produced using traditional techniques in innovative ways and with respect for the environment. In addition, renowned TV chef, Gutti Winther, was nominated in the Food Communicator of the Year category for his popular TV show titled "Fish and Skips."
BIGFISH BRAND TURNS TO BREADED SALMON
GRIMSBY'S BigFish Brand has unveiled six new, convenient breaded salmon products.  Made with premium salmon fillet and coated in  golden crumb, the range offers salmon in both bites and goujons with plain and also two flavoured breadcrumbs: Lemon & Pepper and Chilli & Lime.  The range is aimed squarely at boosting the role of seafood in the popular and fast growing breaded product market. Louise Coulbeck, joint founder and director of JCS Fish, the family firm which produces BigFish Brand, says; "These new Bites and Goujons perfectly answer a clear consumer need.  Seafood is currently playing catch-up to chicken, which has seen substantial growth in coated bite-size, fillet or mini finger type products.  Plus more adults are eating fish fingers than ever before.