Angry viewers force company to drop TV star from seafood ad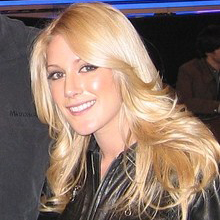 THE big New Zealand seafood company Sealord has dropped a TV ad featuring the American TV personality  Heidi Montag following an outcry from viewers.
The company, which has a dedicated processing operation for Waitrose in the UK based near Grimsby, has been  accused of spending too much money at a time when they were cutting jobs back in New Zealand.The company has axed almost 100 jobs at a fish processing plant in the town of Nelson and the news has not gone down well..
The  30 second advertisement  seemed harmless enough, showing  the blonde  star  from Big brother asking various people what they thought of Sealord frozen Fish Fillets.
But it was the reaction from viewers via social media that shook the company. People asked why Sealord was spending so much money at a time when some of its staff were losing their jobs. They also asked how much she was being paid. Many  said they would not buy Sealord products unless the advert was dropped.
Sealord  eventually relented under the pressure and said on its Facebook page the  commercial  was being replaced with a different version which cuts out all scenes of Montag.
It said via its own Facebook update : ""We heard you NZ! You told us that you loved our REAL fish but not Heidi Montag. So, we listened and changed our TV Ad to star only REAL people.".
The decision seems to have had an immediate positive effect with  Facebook users congratulating the company  "for using real Kiwi people" on the ad. It also demonstrates the power of social media if consumers don't like what companies do.