AIPCE-CEP launches latest FinFish Study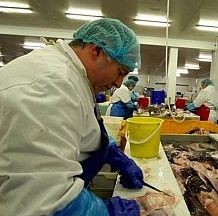 AT a meeting with the new Commissioner for Environment, Maritime Affairs and Fisheries in Brussels yesterday, AIPCE-CEP representatives presented Commissioner Vella with a copy of the latest Finfish Study, which has been published annually for more than 20 years.
The study provides a detailed analysis of the EU seafood market and the role which processors and traders play in providing safe, sustainable, convenient and affordable products to meet consumer demand.
In a wide ranging and positive discussion, Commissioner Vella acknowledged that the processing and trading sectors had a vital role to play in furthering the EU's sustainable growth and competitiveness aims, in particular in terms of added value, innovation and employment.
As suppliers of nutritious and renewable protein products, fish processors had an important contribution to make to the wider Blue Growth and food security agendas.
The Commissioner agreed on the need for stable and predictable access to imported raw materials to sustain markets and ensure continuity of supply to EU consumers and on the need to improve resilience and traceability at all stages of production.
It was agreed that regular further meetings will be held to ensure that the sector's views are fully taken into account in future policy discussions in order to maximise its potential.