£2m grant for Mowi's Blar Mhor processing centre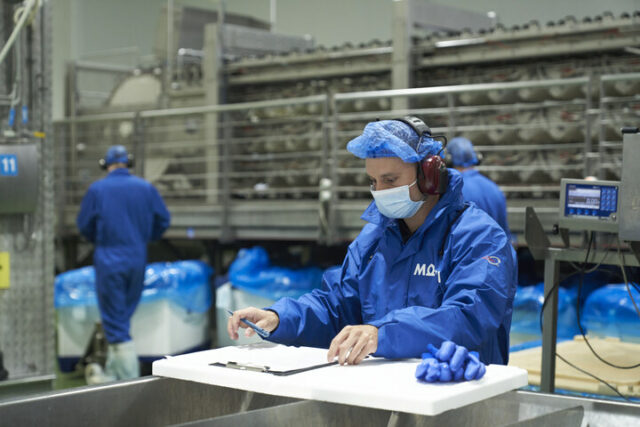 Mowi Scotland's processing facility at Blar Mhor, Fort William, has been awarded a grant of just over £2m from the UK Seafood Fund.
The grant will be used to modernise the plant, including funds to buy equipment that will rapidly process fish and improve despatching of Mowi's premium salmon.
The investment is aimed at:
Increasing throughput from 65,000 tonnes to at least 95,000 tonnes per year.
Reducing the number of single use polystyrene boxes by 40% by 2026. This is a substantial contribution to reducing the carbon footprint of this product.
Introducing automation to reduce manual labour, contributing to the health, safety and wellbeing of employees on the site.
Mowi has already invested in expanding the processing plant at Blar Mhor over the past two years. The facility has continued to operate while construction has gone on.
The grant for Blar Mhor is part of a £20m funding round for the UK government's £100m Seafood Fund, which was set up to support the long-term future and sustainability of the UK fishing and seafood industry. The infrastructure strand of the Fund helps to pay for upgrades to ports, processing and aquaculture facilities.
Other successful bidders in the latest round include:
HSH Coldstores, which is investing in a cold storage and logistics facility to further expand seafood processing in Grimsby and generate new jobs in the area;
Scottish company Denholm Seafoods which is installing equipment to increase production of mackerel and herring landed at Peterhead;
Cornish-based Falfish which will invest in new technology to grade, freeze and pack pelagic fish in support of building two purpose-built Sardine fishing vessels; and
Shoreham Port on the south coast of England, which is transforming a historic dry dock into a modern facility for local and visiting fleets.
Fisheries Minister Mark Spencer said: "Fishing communities are an important part of the UK's heritage and they make a valuable contribution to our economy, so we are backing them with funds to boost growth and opportunities across the industry.
"This funding will ensure seafood businesses throughout the supply chain are well-equipped to keep pace with increasing demand at home and abroad, boosting production and sustainability and building a resilient sector for the future."
The second round of the UK Seafood Fund infrastructure scheme, which is worth £30m, opens today. Businesses will have until March 2025 to deliver their transformational projects, so a wider range of organisations will be able to apply. For more information see www.gov.uk/guidance/uk-seafood-fund