Salmon prices starting to tumble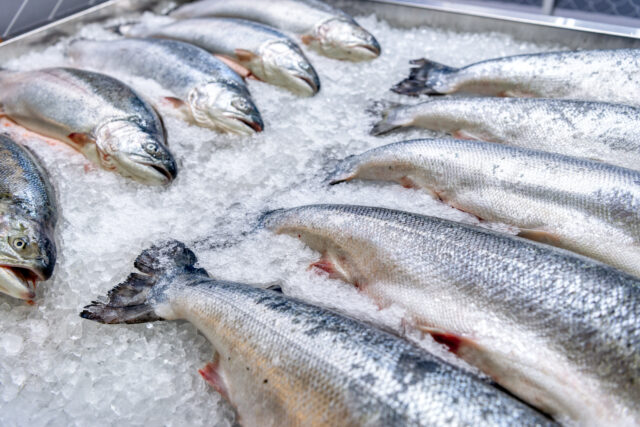 Salmon prices are starting to come down from their dizzyingly high levels of a few weeks ago.
According to the latest figures from Statistics Norway, which keeps a weekly record of price movements, fresh salmon fell by NOK 2.84 a kilo or 3% in week 27 to NOK 90.29 (£7.54).
The Statistics Norway figure is an average, with some buyers paying and others more, especially for large fish. Norwegian exporters are saying quite a lot of fish remained unsold last week.
The expectation is that prices are still too high and have further to fall, possibly averaging NOK 77 (£6.43) to NOK 80 (£6.68) for 4kg-6kg fish.
It should also be remembered that prices are still around NOK 25 higher than at the start of January and NOK 32 higher than at the same time last year.
Seven months ago a figure of around NOK 90 (£7.52) a kilo would have been considered as quite remarkable.
But despite cost of living pressures for consumers, a war in Europe and further large scale Covid lockdowns in China, prices have climbed relentlessly; although, so too have fish farm production costs.
Traditionally, demand and prices drop at the start of July because most of Europe is setting off on holiday.
The same is happening this year despite record temperatures. Higher prices in the shops may also deterring the consumer, although a number of UK stores appear to be heavily discounting.
Sales – and wholesale prices – usually pick up at the start of the September, so it will be interesting to see what happening in another couple of months.
Demand has certainly not collapsed. Norway said exports in week 27 rose by 1.5% to 16,656 tonnes.
Although far smaller in volume, exports of frozen salmon continue to hold up. Prices jumped by almost NOK 20 to NOK 101.63 (£8.49), while sales volumes were up by 50 tonnes to 475 tonnes.