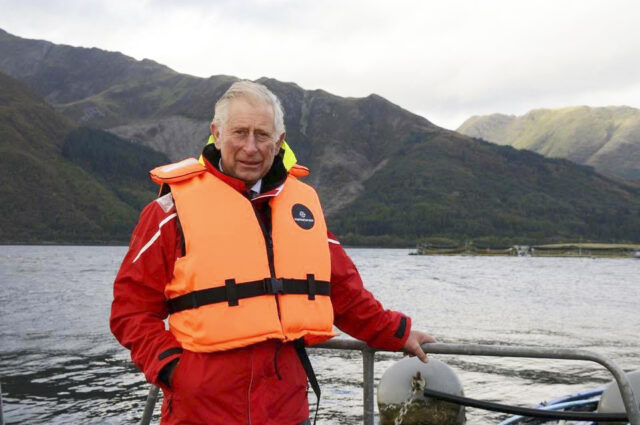 As we leave the Elizabethan age and Prince Charles ascends the throne as King Charles III, the press has speculated whether our new king will continue to champion his environmental agenda or whether he  will now take a back seat.
According to the BBC News, his friends say that he will not cool on environmental issues including climate change, even though the monarch is obliged to remain politically neutral. However, the BBC say that his concerns began long before environmentalism became mainstream. They say that within months of his investiture as Prince of Wales in 1969, the 20-year-old prince wrote to the then Prime Minister Harold Wilson expressing his worry about the decline of salmon stocks in Scottish rivers. He wrote that "people are notoriously short-sighted when it comes to questions of wildlife."
Unfortunately, the BBC did not elaborate any further.
The letter was publicised when official papers were released under the 30-year rule. It seems that Prince Charles warned the Prime Minister of the dangers of over-fishing in a confidential hand-written note from Balmoral, dated September 12, 1969, it was not overfishing by anglers that had raised the prince's hackles but rather commercial netting off Greenland. His note went on to claim that several species had been wiped out because no-one had woken up in time to see the danger.
However, it appears that his concerns were not all that they might have seemed.
He told the Prime Minister that modern methods of commercial fishing seem to allow the fish absolutely no chance and the numbers taken each year had been increasing rapidly. By comparison, he said. the sport of angling has a huge following in this country and as a result there was great value to be gained from promoting the sport, especially to anglers from abroad.
A year later, Harold Wilson wrote to the prince to say that greater restrictions had been imposed in Norway in relation to salmon fishing to which Prince Charles replied that it was a step in the right direction.
Prince Charles has always had a love of fishing, encouraged by his late grandmother who was a keen angler. It is not surprising that one of his first trips to Ireland included a private visit to go fishing.
The Irish Times recalled, following his accession as King, the prince's first official visit to Ireland as the Prince of Wales. It was also the first official visit to the Irish republic by a member of the royal family. He took time out of the visit to spend two days at the fishery. Peter Mantle, the then owner of Delphi said of the visit in 1995 that the prince had a "genuine interest" in one of the big conservation issues in the west of Ireland at the time: the impact of salmon farms on wild fisheries such as Delphi's.
Clearly, the Prince remembered these comments because seven years later in 2002, he held talks with Scottish Ministers at Balmoral to voice concerns that fish farms were damaging Scotland's wild fish population. In 2016, this magazine reported that, as Patron of the Atlantic Salmon Trust and a keen angler, Charles was closely associated with the wild fish lobby and a vocal opponent of salmon farming. However, he had encouraged the International Sustainability Unit, a group he had established to help resolve some of the key environmental challenges facing the world, to look into the issues of sea lice. This led to Charles actually visiting a Marine Harvest farm in Loch Leven to look at their work with cleaner fish.
Interestingly, the visit was reported by the Herald as saying that Prince Charles has long championed sustainable fish farming, which isn't true. He did support an aquaponics unit in Todmorden in West Yorkshire, but whilst being promoted as sustainable, it was never viable.
Since his visit to Loch Leven, Charles has remained somewhat quiet about salmon farming. This is no doubt due to the fact that by 2016, salmon stocks in Scotland's east coast rivers had collapsed and these rivers were many miles away from the nearest salmon farm.
In 2017, the prince spoke at the 50th Anniversary Dinner of the Atlantic Salmon Trust. He reminisced that he had begun to fish when he was aged seven at a time when the rivers were crammed with fish and the experience meant that he never wanted to fish for anything else.
He told the guests that in 1967, when the AST was formed, catches in the River Dee that flows through the Balmoral Estate were 8,000 fish whereas in 2016, the catch was only half that number. He also said that 30 years ago, one in four fish would return to Scottish rivers and now the number was one in 20. More importantly, he said that no-one had any idea why the fish were failing to return. Seemingly, the wild fish sector has not responded to his anguished speech because five years on we still have no idea as to what has happened to wild salmon. Instead, the focus remains firmly on the impacts of salmon farming.
Any hopes that the Prince of Wales would have continued to highlight the failure of salmon to return across all of Scotland were dashed when his office made it clear that the prince does not get directly involved in the activities of the organisations of which he is patron. His accession to the throne makes this even less likely than ever.
Now, 50 years after the man who is our king first expressed concern about wild salmon, it appears that their future is just as uncertain as ever.