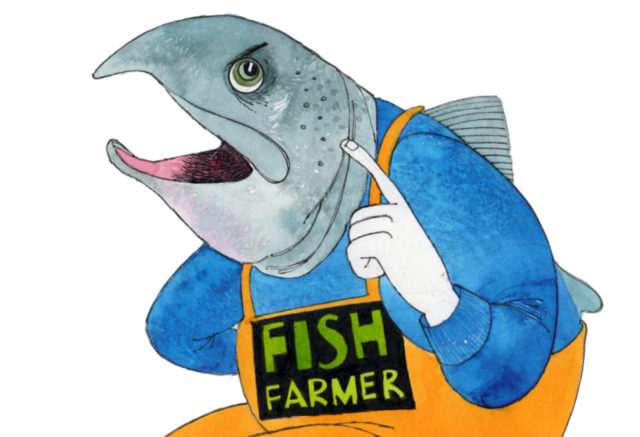 One of the benefits of coming towards the end of one's career is the ability to look back at how the industry has performed. For a change, I'm not talking about farm performance but about how well we respond to some of the reasonable – and unreasonable – criticism that we face as an industry.
In the early stages of our facing the press, the Scottish Salmon Growers Association, as it was then called, was run by William Crowe, a robust defender of the industry. In those days criticism was less focussed and less well funded. Even so, William's view was to confront the critics head on and his style was to get the opponent on the back foot as quickly as possible. With hindsight (which is all too easy) it might be that this way was too combative, but we were finding our feet as an industry. The general view of those in the farms' top management was: "This is our industry organisation's job, so let them get on with it". It never seemed to occur to anyone that if we worked on our image, our industry organisation's job would be so much easier!
Then the organisation came under the tutelage of Lord Lindsay. Criticism had become more focussed and vociferous. There were now much more dedicated and well-funded people opposing our industry. We became much more amenable to discussion and compromising. It could be argued that this strategy encouraged the critics but that would be too simple. There is little doubt that the political climate was much less favourable, not just because the industry had grown so much but also because we had not cultivated our friends in high places as well as we might have.
During this period our organisation began building bridges, but also gave away some ground that has taken a long time to get back. Some might say we have never got it back. The truth is that in the political environment 'what ifs' are a waste of time. The decisions were made and the industry continued to thrive, albeit in a foetid atmosphere at times. The major companies were still relatively uninvolved and seemed to feel that the industry's image was none of their concern. In fact some of them seemed genuinely outraged that anyone should dare to think ill of them.
It has been enjoyable to watch the change as the industry has grown of age. As a food producing industry we will always face our critics, but neither of the approaches taken previously are useful in isolation. Since those days the major companies have got involved in showing various audiences that we are connected to our communities; that we produce healthy, good food; and that the stories suggesting we are anti-environmental are significantly overblown.
Of course there will be issues, escapes will happen and in a developing industry, health issues will rise and fall. The point is that there is a much better and more level playing field when everyone contributes.
To that end, it is so good to see that a mixture of confronting criticism and discussing with critics is being used now. Both have their place in trying to get others to see reason. With the Scottish parliamentary elections coming up in May next year, trying to get the parties see the value of what we do is critical as well.
I would add it is very heartening to see that Tavish Scott has joined the Scottish Salmon Producers' Organisation as chief executive, not just for his management skills but also for his knowledge and understanding of the political scene.
The key aim for him and all the team will be to get the public to see our industry in a more realistic light: to see the value of our commitment to our local areas; to understand that our fish are the telltales of our local environment; and to realise that we are farmers trying to learn how to farm better without the benefit of centuries of hindsight.
Once when I was sitting on the board of SSPO, we were discussing the value and cost of PR. Graeme Dear, the then managing director of Marine Harvest, felt it necessary to point out that Marine Harvest was the largest contributor to the SSPO's funds. He said: "Without us, none of this would happen, Joy!"
I replied as MD of Loch Duart: "But we make you look good, Dear!"
This was a time of the beginning of understanding about how to present ourselves and I hope Graeme will forgive me recounting that. There is no doubt that the smaller companies benefitted from the funding contributed by larger companies but there is also no doubt that the smaller companies often had a better image. We will only be a strong diverse industry when we appreciate that strength, and the advantages we all bring to the message.
It is very heartening to look at some of the industry PR these days and see how far it has come. Long may it stay that way!