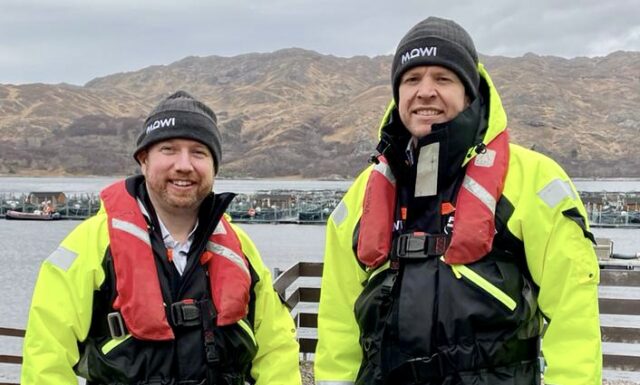 Earlier this year two members of the Senedd, the devolved legislative assembly for Wales, visited Scotland to find out more about its aquaculture sector. Here, they report on their impressions. 
The overnight sleeper train from Crewe to Fort William is a pleasurable experience in the bleak winter months. On awakening from our slumber, we looked out on pristine white landscape dotted by deer grazing on the foothills of the Grampians along the West Highland Line.
Fort William was only a stop on the journey to see some of the salmon farms and other infrastructure associated with the salmon industry in Scotland. On leaving the town with BBC Gael providing a soundtrack to the journey, we drove past the Fort William Shinty Club and the newly built Police Station and housing estate on one side and aquaculture factories on the other.
We'd visited this part of Scotland to learn more about the salmon industry and wider aquaculture in the country, and how it contributed to the economy and social fabric of Highland communities.
Wales is like Scotland in many ways, but on a much smaller scale. Our rural and coastal communities have suffered depopulation. The communities that we represent in Wales have some of the lowest incomes per household throughout the UK. West Wales and the valleys are amongst the poorest communities (relatively speaking) in northern Europe. We also have a chronic lack of well-paid employment and affordable housing. This leads to depopulation, loss of community and culture and an over-dependence on uncontrolled tourism. Things need to change. We need to develop new industries that build on our skills and natural wealth.
This is why we came to the Highlands, to see how salmon farms had developed over a 50-year period to being a major employer, and making a significant economic and social contribution to the local communities and the nation at large.
We visited hatcheries, farms on sea lochs, and R&D centres. Sadly, the harvesting had to be abandoned due to bad weather. We saw small communities where a significant proportion of the residents worked in the industry, ensuring the shops and schools remained open, and we heard of plans by businesses in the industry to build houses for their employees, in areas where people are priced out of the housing market.
We also heard how Scottish branding added value to the product, with an estimation that the Saltire added 20p per kilo to the end product.
The innovation was an eye-opener, with new branches developed within the industry such as feed factories employing hundreds in remote island communities, to breeding wrasse and lumpfish to tackle sea lice, and the millions pumped into these innovations and others to allow the industry to grow and become more sustainable.
Wales will never compete with Scotland on salmon. We don't have the sea lochs, and we have warmer waters along our coast. But we have a significant shellfish industry, with whelks, mussels, and cockles. Lobsters, crabs, seabass, herrings, and many other delicious species can be found in our seas, with tuna specifically on the increase. But our aquaculture is chronically under supported.
Wales is surrounded on three sides by the sea and has a long and proud history in fishing. There's no reason why we can't develop a thriving indigenous aquaculture industry here, from the hatcheries to the supermarket shelves, creating jobs and strengthening our remote coastal communities.
Of course, the Scottish salmon industry has its detractors, and we in Wales must have our eyes wide open when it comes to ensuring environmental sustainability as well as economic prosperity. We would, anyhow, be unlikely to follow the Scottish model. We have expertise here already in on-land RAS (recirculating aquaculture systems) fisheries. Plants near the eastern tip of the island of Anglesey, at Penmon, are a vital part of the Scottish salmon supply chain, producing cleaner fish to swim among the salmon, as a measure to control lice. These skills and expertise could – and should – be developed in fisheries producing fish for our tables.  There's real scope to create jobs in production and processing.
Scotland has developed what was dubbed a crofting hobby into a world-renowned industry, producing high quality, high protein food adding value to the economy and communities. Salmon is of course in the top five fish, while whelks or herrings are far from staple household foodstuffs. But food cultures change, fashions change, and with leadership and investment there's no reason why we can't grow an aquaculture sector in Wales based on our strengths and built on sustainability, welfare, and resilience.
The Scottish Highlands gave us much food for thought.
Mabon ap Gwynfor MS represents Dwyfor Meirionnydd and Rhun ap Iorwerth MS represents Ynys Mon.