Young's launches seafood range for kids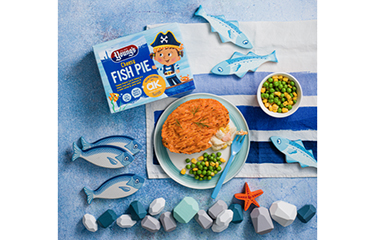 Young's Seafood has teamed up with cookery author Annabel Karmel MBE to create fish-based frozen meals for youngsters.
Designed for children under five, it's hoped the tasty and healthy meals will help to inspire the next generation to love fish while supporting the UK Government's recommendation of eating two portions of fish a week as part of a healthy balanced lifestyle. The range of meals strongly features salmon.
Since launching with The Complete Baby and Toddler Meal Planner more than 20 years ago, Karmel has written 38 books, which have sold over four million copies worldwide.
The products are being rolled out across selected Sainsburys, Tesco, Asda, and Booths stores, starting from 2 September.
The Cheesy Fish Pie is made up of Atlantic cod and salmon fillet which are both naturally high sources of essential fatty acids, such as Omega 3. The dish comes with sweetcorn and a sweet potato and carrot mash, meaning that the product counts towards two of a child's "five-a-day".
The Fish and Chip Shapes are made with Pollock, peas, carrots and mash in golden breadcrumbs.
Young's frozen seafood range has seen sales grow by more than +18% in the last 52wks compared with the same period in 2019.
Marina Richardson, marketing controller at Young's, said: "At Young's we are driven by a belief that a nation that enjoys fish regularly is a happier and healthier nation, and this is something we want to pass on to the next generation too. We are excited to join forces with Annabel Karmel to launch dishes that will do just that."