Young's and Blackthorn Salt in Asda salmon launch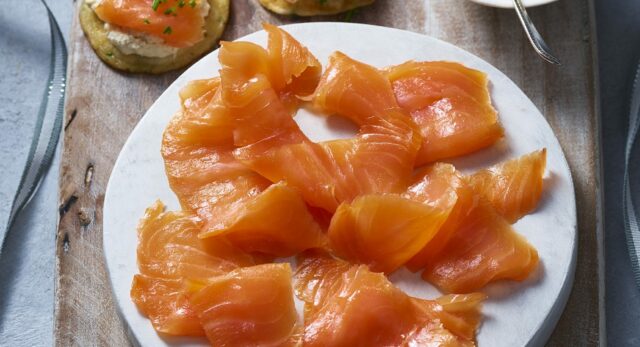 Young's Seafood has teamed up with the Ayr based Blackthorn Salt company to secure a contract to supply a new Extra Special Blackthorn Dry-Cured Smoked Salmon product to over 450 Asda stores across the UK this festive season.
Young's Seafood is the UK's largest specialist seafood brand, and the Extra Special Blackthorn Dry-Cured Smoked Salmon, it says, is one of its most decadent launches to date.
The Extra Special, superior grade salmon (pictured) is hand cured with Ayr-based Blackthorn sea salt flakes, and then undergoes a 30-hour smoking process. This is more than double the usual smoking time, for a deeper, richer flavour, making the salmon a seasonal sensation not to be missed.
Paul Terris, the senior development manager at Young's Seafood, said: "We have enjoyed a longstanding partnership with Asda and are delighted to bring this exclusive Extra Special product to festive feasts across the UK this Christmas.
"We are very proud of our Scottish heritage and at our picturesque smokehouse in the far Northeast of Scotland, our smoked salmon experts have spent many months perfecting the production process.
He added: "Our salmon is hand cured with Blackthorn sea salt flakes made in the world's only working graduation thorn tower in Ayr, using methods that are patient, gentle and sustainable. We are delighted to bring this truly Scottish salmon product exclusively to Asda stores across the UK."
When asked about the dedicated production process, Kenny Noble, who has been a master smoker for over ten years explained: "These kilns really are magic in lots of ways – the smoke adds flavour and helps preserve the salmon".
Ashley Connolly, Local Buying Manager at Asda, added :"We work alongside some wonderful local suppliers to create innovative, affordable, and delicious products for shoppers to enjoy.
"We are delighted to have such a strong relationship with Young's, and our customers always love the Extra Special Smoked Salmon products, especially at this time of the year. The Blackthorn Dry-Cured Smoked Salmon will be a fantastic addition to our Extra Special Christmas range in the lead up to the festive season."