Young chefs win starring role at Brussels expo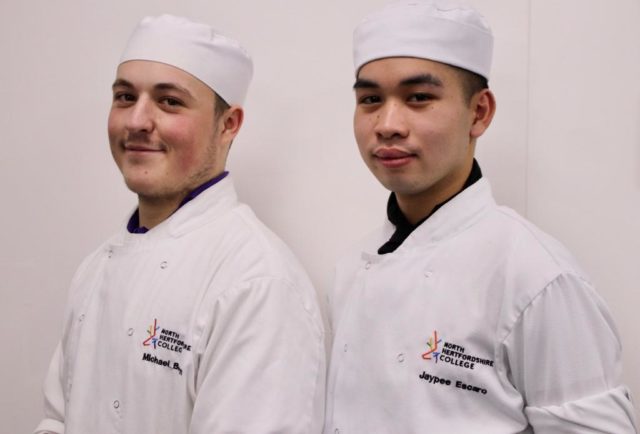 TWO teenage students have won a trip to the world's biggest seafood show, where they will prepare salmon dishes for Scottish farmer Loch Duart.
Jaypee Escaro, 18, from Stevenage, and Michael Brown, 18, from Letchworth Garden City, are both Level 3 students on the advanced diploma in professional cookery course at North Hertfordshire college.
They took part in a competition organised by Loch Duart's food ambassador, Patrick Evans, who challenged students at several colleges to submit recipes and photos of canapes they had created with Loch Duart salmon.
'We love the opportunity to work with and support young ambitious chefs,' said Evans. 'By creating this challenge, Loch Duart is giving the winning students, Jaypee and Michael, an experience which we hope will be both challenging and inspiring.'
The students will support Evans and the Loch Duart team at their stand at Seafood Expo Global in Brussels in April, preparing and serving their winning canapes over three days.
North Hertfordshire college tutor Anthony Gascoigne and team leader said: 'This is a fantastic opportunity for the students to expose them to the seafood industry at such a high level.
'Working with quality produce like Loch Duart and having the privilege to represent them at the Brussels Seafood Expo is not only developing their skills, but exposing them to industry in preparation for them moving into full time work after college.
'I very much look forward to developing the relationship between North Hertfordshire college and Loch Duart.'
Escaro's winning recipe was 'Salmon tartare, green apple, pickles, cucumber, spring onion, radish, dill oil, Dijon mustard on rye crisps'.
He said: 'The opportunity to do this would expose me to the seafood industry and help me with my creativity when it comes to preparing and cooking dishes on a large scale.'
Brown's winning recipe was 'Blini with beetroot, orange and whisky/gin cured salmon, candied beetroot, horseradish cream and chives'.
'I will benefit from this experience because we are going to serve a lot of people and the challenge of trying to make every dish the same will develop my confidence,' he said.
The Brussels Seafood Expo takes place from April 21-23 and is expected to host more than 29,000 buyers, suppliers and seafood professionals from over 150 countries.