Ÿnsect appoints new CEO, announces board changes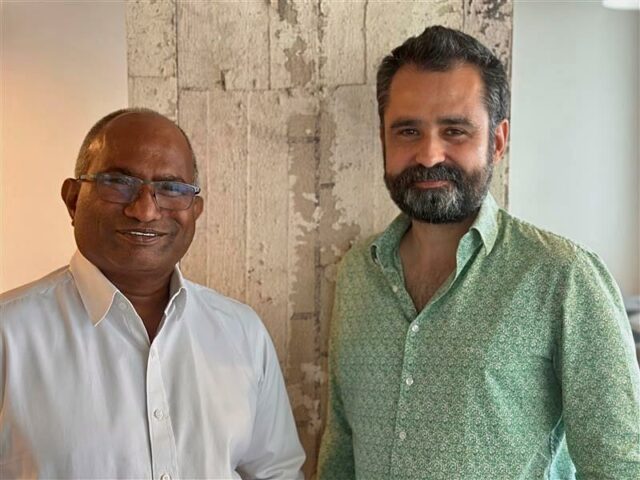 Alternative protein producer Ÿnsect has appointed a new CEO, Shankar Krishnamoorthy, as part of a board reorganisation that sees co-founder and former CEO Antoine Huber stepping down to focus on "innovation, science and impact".
Ÿnsect raised €160m (£137m) in its series D funding round in April this year. The company transforms mealworms into high-end, high-value ingredients for pets, aquafeed, plants and humans. It has several production sites around the world and is currently constructing the world's largest vertical farm in Amiens, France.
Krishnamoorthy joined Ÿnsect in 2021 to lead international development and the construction of the Amiens site. He was formerly a director on the Executive Committee of ENGIE a world leader in the electricity and gas sectors.
A scientist and environmental activist, Antoine Hubert co-founded Ÿnsect in 2011 with the ambition to make an active and concrete contribution to decarbonising the food chain in the context of the climate emergency. He now takes up the role of Executive Vice-President.
Hubert said: "In 12 years, together with our shareholders and our teams, we have risen to immense challenges to make Ÿnsect a leading company in the production of insect proteins for food, pets and plants.
"Today, and while our flagship site in Amiens is achieving a major milestone in its start-up phase, Ÿnsect has reached a point that requires us to adapt our organisation. Therefore, I am handing over the operational reins of the company to Shankar, a seasoned professional that I fully trust and who has demonstrated his great qualities within Ÿnsect over the past two years, thus ensuring the best possible continuity for our teams and our stakeholders.''
Shankar Krishnamoorthy said: "I am honoured by the trust the Board has placed in me and am thrilled to lead Ÿnsect into its next stage of growth. I wish to thank Antoine for his dedication and commend his vision in launching Ÿnsect and in leading the company through its formative years. I look forward to working with all Ÿnsectors to tackle our challenges collectively and to relentlessly work to accomplish our mission."
A number of new directors  have also joined the company's board. They are: Eugenio Minvielle, Jean-Christophe Quémard, Hans Wackwitz, Jean-Paul Lemonnier, Eric Archambeau, Gilles Schang and François-Xavier de Thieulloy.