Yeast-from-wood feed project scoops Nutreco award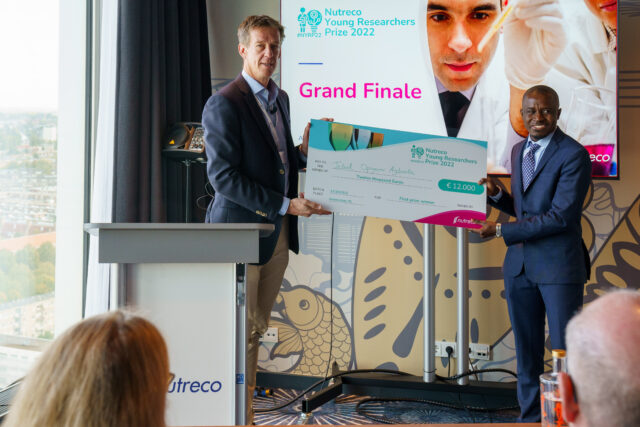 A study with the intriguing title "Can fish grow on trees?" has won a research fellow at Norway's Institute of Life Sciences the accolade of Nutreco Young Researcher of the Year.
The award, supported by feed company Nutreco, went to Agboola Jeleel Opeyemi for his research into the nutritional and functional potential of yeasts produced from wood sugars as sustainable fish feeds.
The €12,000 (£10,500) cash prize will help to further Opeyemi's research. He said: "I'm extremely honoured and excited to be named this year's Young Researchers' Prize winner. Having my research recognised in such a way reassures me that I'm making a proactive and meaningful contribution towards feeding our growing population more sustainably. I'm looking forward to using the prize money to further my aquaculture research as well as dedicating some time to my own personal and professional development."
"My advice to every young scientist is to always cultivate a curious mindset and I'd thoroughly encourage anyone considering applying to next year's prize to do so. Having also applied in 2019, I'm a prime example of no matter the challenge, you can achieve anything you put your mind to if you work hard and strongly  believe in yourself. Thank you again to all the judges and Nutreco for their ongoing support of young researchers like myself. Also, I would like to appreciate all my mentors, this couldn't have been possible without the incredible support I received from every one of them over these years."
The second-place cash prize of €8,000 (£7,000) went to Chiara Guidi from the University of Ghent, Belgium, whose research explores a means of tackling antimicrobial resistance through the production and use of Chitooligosaccharides (a substance derived from chitin) that target pathogens in the guts of weaning piglets, improving their immunity and growth, whilst preventing illness and reducing the need for antibiotics.
The third prize went to Giulio Giagnoni from Aarhus University, Denmark, who received a cash prize of €5,000 (£4,375) for his research project. It aims to identify climate-efficient phenotypes of dairy cows and reduce methane emissions by amending their diets.
Leo Den Hartog, Head Judge, Nutreco N.V Board Member and a former R&D Director at the company, said: "Many congratulations to all three finalists on their fantastic, innovative, and thoughtful research projects. Agboola Jeleel, Chiara and Giulio and their respective Universities should be incredibly proud of themselves.
"Special congratulations must go to Agboola Jeleel for his research that examines the nutritional and functional potential of yeasts produced from wood sugars as sustainable fish feeds – a truly innovative solution to sustainable fish farming."