Wrasse get passports to travel to show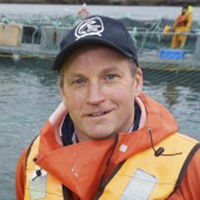 Wester Ross Salmon boss Gilpin Bradley was taking no chances this year with his precious cargo of wrasse, attending Seafood Expo for the second time.
Last year, he transported the live fish, along with a variety of other marine life found around the farms, by train – first class, of course.
It was quite an operation and inevitably the wrasse, displayed on the Wester Ross stand in the Scottish pavilion, stole the show.
This led to enquiries about documentation for the cleaner fish, so this time, to ensure their smooth transit, Bradley has secured individual passports for each of them, courtesy of Marine Scotland.
They were air freighted, via Inverness and Heathrow, arriving in good health. Two are in the tank on the Wester Ross stand, while another two are keeping a nearby display of crabs company.
The wrasse deserve the special attention because of the work they have done keeping Wester Ross farms treatment free for the past four years.
Bradley, sporting a rosette with the words 'All natural', said since introducing the biological solution to sea lice, the company has not had to use any medicines or mechanical tools.
'Operational practice has a big impact on options for using novel treatments – the use of cleaner fish lends itself to the way we operate, which is very labour intensive.
'Looking after fish health for us is looking after the wrasse – if their needs are met, the salmon will perform well.'
Nicolas Holmes, the fish health manager at Wester Ross, said they check for sea lice once a week, in line with other producers, and report to the SSPO.
A combination of a low stocking density and low stress farming practices, which Holmes says, doesn't disturb the environment around the pens, result in less stressed fish.
There is a one per cent stocking density of wrasse, all of which come from local wild stocks.
'Once the fish are in the sea we leave them there so stress levels are as good as they can be,' said Holmes.
There is no AGD on the farm either, said Holmes, who advocates a 'holistic' approach to fish health management, with smaller cages of 15m square and hand feeding also playing a part.
'We hand feed so we're observing the fish twice a day every day of the year therefore it's obvious if there is a problem.'
He believes the successful methods at Wester Ross – which produces 2,000 tonnes – could be replicated on a larger scale with very careful management.
Bradley told an STV crew visiting the stand that Scottish salmon is worth more to the UK economy than the landed value of the UK fishing industry.
'Sixty five per cent of the stand space in the Scottish pavilion is Scottish salmon, either producers or processors of salmon – it's critical to the success of Seafood Scotland. And the Scottish government is 100 per cent behind us.'
Bradley, in common with other Scottish producers, would like to grow, in order to keep up with demand. He now sells 60 per cent of his salmon outside Europe, with 50 per cent going to the US. There is also a focus on Asian markets.