World famous chippie hit by fire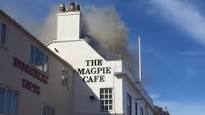 THE Magpie in Whitby, once hailed as the best fish and chip restaurant in the world, could be closed for up to three weeks following a serious fire in the main building. However, the takeaway next door is expected to reopen today.
Smoke was seen billowing from the famous cafe's roof on Sunday, the second such outbreak within 24 hours.
The blaze is thought to have broken out in the top floor men's toilets on Sunday evening. North Yorkshire Fire Service said eight fire engines, with crews from Whitby, Scarborough and Middlesbrough, fought the fire for six hours.
It spread to the roof space, but was extinguished without anyone being hurt.
Owner Ian Robson said: 'It has been a long night but we're all here still, that's the main thing. We don't really know what started it, just that there was smoke in the gents' toilets on the top floor.
'The fire brigade responded brilliantly, they were here in no time and did a fantastic job of containing the fire and minimising the damage.'
The Magpie regularly attracts fish and chip aficionados from all over Britain and the late Sunday Times restaurant critic AA Gill wrote: 'It remains the best fish and chip restaurant in the world – completely perfect, true to its calling.'
It is also a favourite of the TV seafood chef Rick Stein.
The Magpie was built in 1750 as a merchant's house and during its history was owned by a member of the Scoresby whaling family. It was for a time the base where the pilots would wait for orders to bring vessels into the harbour.