Work starts on SalMar's new smolt plant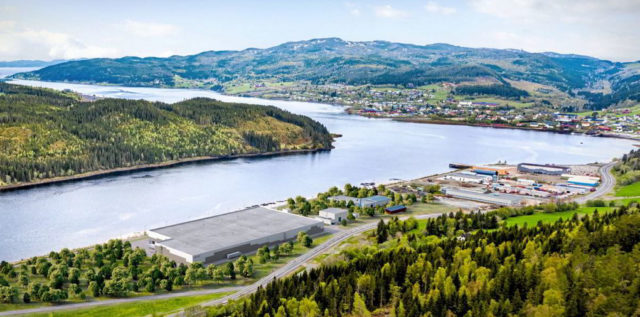 Groundwork has already started on what will be one of the world's largest facilities for the production of juvenile salmon. The board of fish farming giant SalMar last week gave the green light for the project.
The hatchery and smolt plant will be based at the Tjuin industrial area in the Steinkjer municipality in central Norway, not far from SalMar's existing smolt plant in Follafoss. The plan was first unveiled in February this year.
SalMar, which co-owns Scottish Sea Farms, said construction work will start in this summer. The first delivery of smolts from the plant is scheduled for 2024. SalMar is investing more than £100m in the project.
The investment means the region will become a world-leading player and an important competence centre in the development of an increasingly sustainable seafood industry, said the company.
The project has a budget of NOK 1.2bn (£101.2m) and will have a capacity of 4,000 tonnes or about 20 million smolts depending on the smolt size. The recirculating aquaculture system (RAS) will be provided by specialist firm Krüger Kaldnes.
The SalMar statement continued: "Access to high-quality smolts with an optimal size is crucial to be able to deliver good performance throughout the value chain in salmon production.
"The new plant will be a state-of-the-art plant for smolt production. The recycling technology reduces fresh water consumption by more than 97% compared to traditional flow-through systems.
"At the same time, sludge will be collected so that it can be used in the circular economy, either as a biogas or soil improver. All in all, this minimizes the environmental footprint of the plant and is in line with SalMar's plans for further sustainable development of the industry."
It added: "The new facility for closed smolt production will be an important component in the supply of juvenile fish to SalMar's coastal and sea-based farming operations. The goal is to secure and strengthen the company's position as a global technology leader in the industry and drive for further sustainable development on salmon conditions."