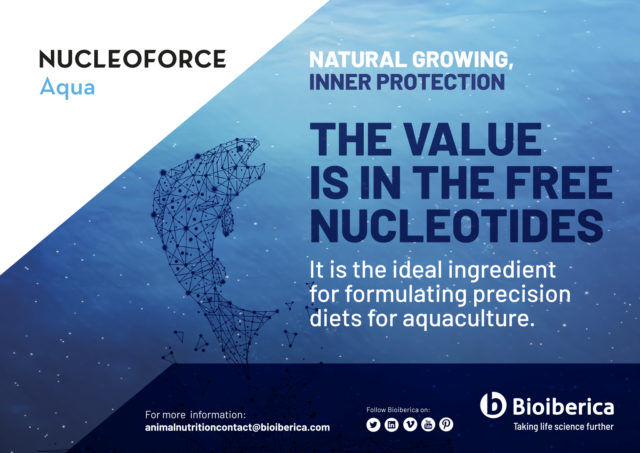 Feed ingredients are crucial for healthy fish and shrimp
The aquaculture feed industry, like other animal feed industries, constantly examines the market and the latest developments in search of new ingredients that can add in terms of quality and functionality, and have a direct impact on animal production parameters and performance.
In an industry as thriving as aquaculture, with an expected significant growth in production and where the introduction of new species is being investigated, the addition of new functional ingredients into the diet plays a very important role now and, even more so, in the future.
Nucleotides are semi-essential nutrients that have key functions in the bodies of marine species. They are very useful at some specific stages of development, particularly in those where cell and tissue replication are very important: early stages of life, infections and diseases, vaccination and stress conditions.
Nucleotides help the animal immune system to develop faster, preparing it for any challenge. In addition, they contribute to healthy gut development in diets containing a high percentage of plant proteins, improving productivity and overall performance. Nucleotides are a very interesting ingredient used in aquaculture production systems, both fish and shrimp, to preserve animal health, boost production and improve profitability.
Nucleotide products for animal nutrition must be free-form ("free nucleotides") because RNA and DNA long chains or small fragments are far too large to pass across cell membranes. So providing an animal with free, readily available nucleotides is a practical way to support the overall animal's metabolism.