WellFish numbers get bigger!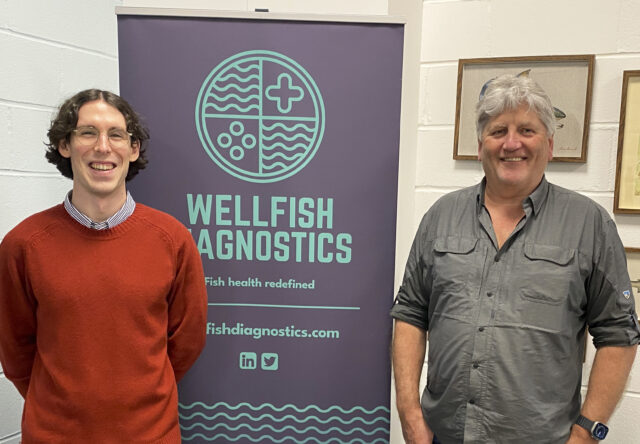 Since the company launched 18 months ago, WellFish has been engaging with Scottish and Irish fish health managers to provide advice on stock health through the lens of rapid blood biochemistry assessment – also known as biomarkers.
"But what do they actually tell us?" is a reasonable and common question amongst fish health practitioners who are interested in, but slightly unsure about, how blood biomarkers can contribute to their understanding of the health of fish in their care. Similar caution has accompanied the development of most diagnostic tools on their journey to mainstream acceptance and the reasons are largely the same: "What is normal?" and "Can abnormal be assessed by degree?"
The road to confidence here has many carriageways including validation, consistency and quality of sampling; sufficient sample volumes; and consistency of interpretation etc. Through an assiduous approach to sample quality, laboratory process, and data interpretation, driven by appropriate statistics, WellFish are building confidence in a method where the output is a value rather than an opinion.
Regression is progression
At WellFish we are acutely aware of the need for a solid database of so-called "biomarker endpoints" which can be compared to the variables to which they might be responding. So, if for example, a particular biomarker is elevated in response to very low levels of micro jellyfish, in order to be useful this relationship must be validated through multiple observations. We use mathematical modelling and deep machine learning to mine and strengthen the relationships between the variables that determine endpoint values and the outcomes to which these, in turn, are contextually related. Complex regression analysis measures the statistical inference between biomarker end points and clinical outcomes.
Over the last six years, WellFish has developed a comprehensive biomarker database. As the number of data points grows across different species in different environments, the predictive power of the model is enhanced.
If you measure it, you can manage it
This means that our data scientist, using his AI model, can find important insights into stock health and welfare which now routinely contribute to the decisions, often high value, which must be made in the management of those fish. Examples of this have included alterations to dietary formulation, delay, and/or sequence alterations to treatment regimens as well as, most seriously, the decision to prematurely harvest populations which are deemed at high risk of non-recovery.
Such decisions are, of course, not taken based upon blood chemistry alone. By monitoring biomarkers, however, health practitioners are deploying a sentinel tool that can provide an early "heads-up" when things are not right and may require further detailed investigation. WellFish use a traffic light system, similar to that deployed in human medicine, where biomarker values in the green zone are regarded as normal, whilst those in the amber zone are less good but OK, and those in the red zone indicate that something is not right. (see Fig 1).

By encouraging the routine assessment of these biomarkers in fish stocks, similar to current practice for gill swabbing and lice counting, WellFish are beginning to establish blood biochemistry as the gateway tool that helps managers to decide whether additional techniques, such as PCR and histology, are required. (see Fig 2).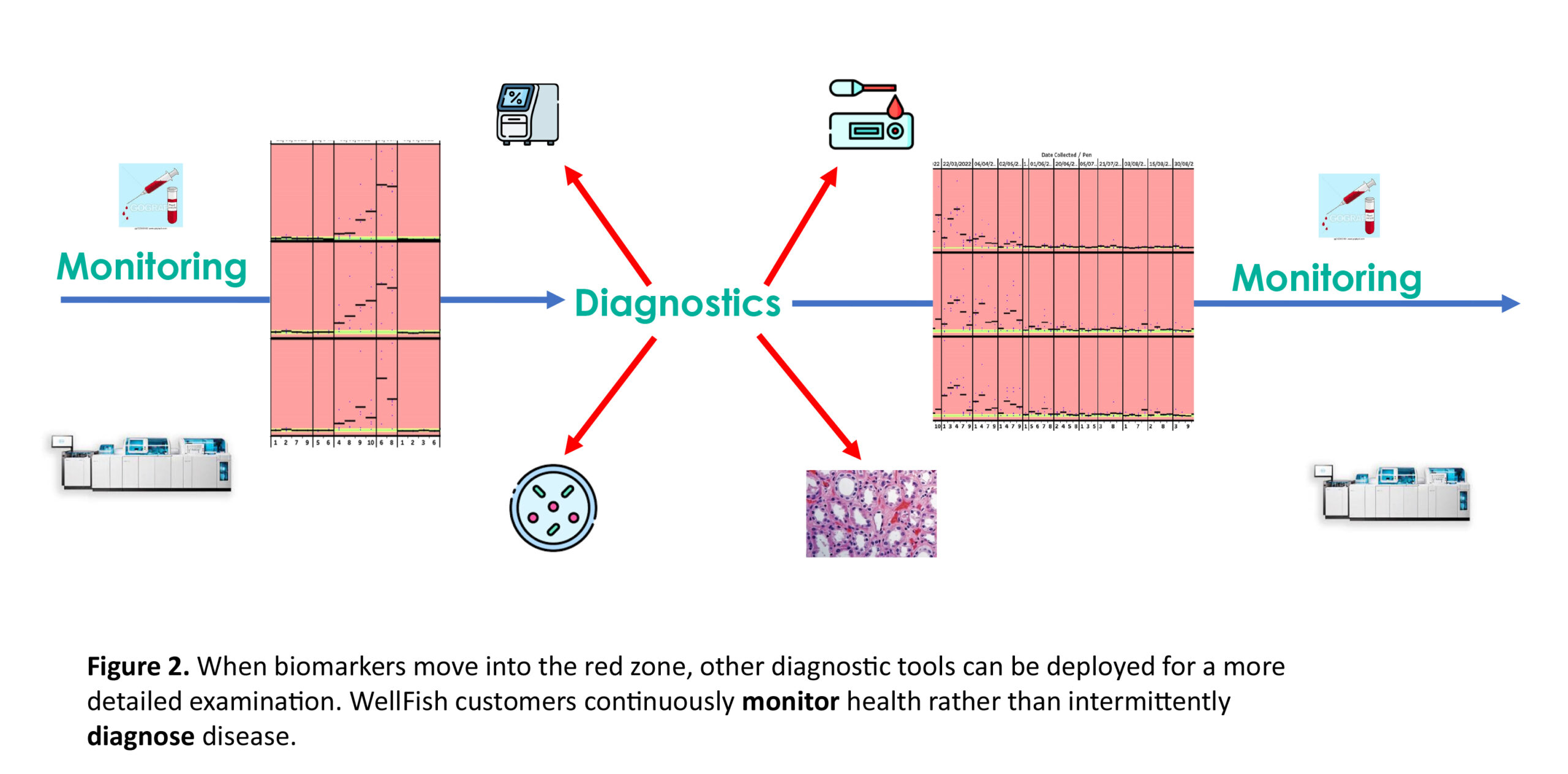 As our understanding of the relationship between biomarker endpoints and health status improves, it is easy to see the potential for these values to make important contributions to the assessment of fish welfare. Again, when a number replaces an opinion as an indicator, the condition that that indicator seeks to describe can be viewed with greater confidence.
In addition to applications in the production arena, the services of WellFish are also sought by those who operate in R&D that supports this highly innovative industry. Because blood biochemistry is so sensitive in its response to changes in the animal's internal and external environments, it has become recognized by research groups as a useful quantitative tool for comparing outcomes from trials including those assessing feed additives and raw materials, containment technologies as well as the physiological effects of various treatments.
Going big, focusing on the small!
2023 is a year when things get both big and small for WellFish! By late spring we will have established a presence in Norway through the installation of a laboratory facility in Bergen. WellFish Diagnostics AS will be directed by our new colleague Amund Litlabø who, along with our other new recruit to the Norwegian operation, Miriam Furne, will set up a team to run the high throughput machines destined for that facility. Later in the year our recently appointed Director for Canada and Chile, Dusan Munjin, will begin the rollout of operations in those two territories.
Taking things down to a molecular level is now the responsibility of our new molecular biologist, Dr Charles Begley, who has joined WellFish as a KTP associate to provide a molecular capability to the Company's diagnostic toolbox to support the clinical biochemistry and confirm pathogen identification.
It is intended that these developments will position WellFish at the vanguard of clinical biochemistry in aquaculture as we promote this science as a new and essential component in the world of integrated, quantitative fish health and welfare management.