Waitrose boost for farmed sea bass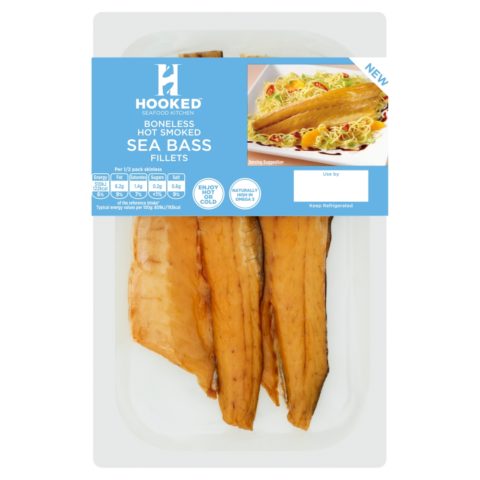 THE first hot smoked sea bass product has been launched onto the UK market following a joint move between Young's Seafood and the high end supermarket chain Waitrose.
This innovative chilled farmed product, sold under the 'Hooked' brand was developed by Young's, which has seen sea bass increase in popularity among shoppers. Research has shown its light, fresh taste appeals to a wide audience.
However, until now, consumers have been limited to just the raw formats of the fish. Young's said it saw an opportunity to create a product for the chilled category which broke down traditional barriers to entry in smoked fish. The sea bass is smoked using oak wood to give it a light, nutty flavour, while retaining the light taste of sea bass which chilled fish consumers love.
Covid-19 has resulted in chilled ranges seeing growth in value sales by 14 per cent year on year as, during lockdown, the category has attracted shoppers who were trying to recreate restaurant-style meals at home using high-quality fresh fish. Waitrose buyer Caroline Stanway said:
'Sea bass is one of the favourite fish species for our shoppers so we are really pleased to have introduced this hot smoked alternative into our stores, giving our customers a new option for summer eating.'
Philip White, Commercial Manager at Young's said:
'We really wanted to open up the chilled market to a broader range of shoppers, some of whom may have rejected smoked fish products previously, driven by uncertainty of how to prepare them or the strong flavours associated with the 'oily fish' species which are traditionally smoked, such as salmon, mackerel and trout. This hot smoked alternative needs no further cooking, has a lighter smoked flavour and little to no smell.
'Investment into new product development at Young's is a key priority for us as we continue to drive the market across chilled and frozen, and this latest launch is another great demonstration of our industry-leading innovation.'
Young's said 'Hooked' represented a fresh, modern proposition, sitting within its portfolio of brands, with a distinct look and feel designed to attract new, younger shoppers into the category.