Virtual summit focuses on sustainability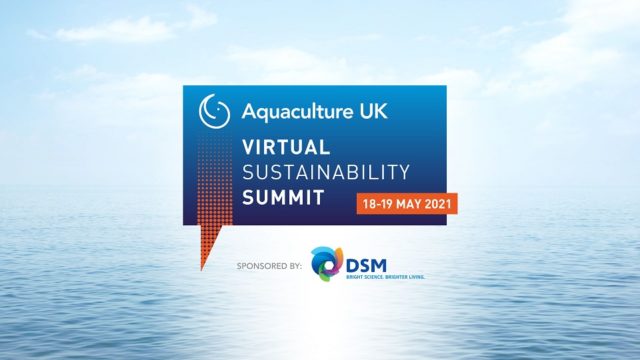 Aquaculture UK, the industry's biggest British trade event, will not be taking place in Aviemore as usual this year, but next week will see the first ever Aquaculture UK Virtual Sustainability Summit.
The annual in-person event has been postponed until next year because of Covid-19 restrictions. Instead, a free two-day virtual event, starting on 18 May, will see the aquaculture industry unite online to hear from industry experts about how businesses can follow a sustainable path.
The summit is sponsored by DSM and speakers include Melanie Siggs, of Global Aquaculture Alliance; Louise Buttle, Fabio Cervellione and Ian Carr of DSM and Veramaris, Heather Jones of SAIC and many more.
Cheri Arvonio, Aquaculture UK's Event Director, said: "We're extremely disappointed to not be able to bring the community together in person in Aviemore this year, so we wanted to offer the industry the opportunity to come together and talk about one of the most pressing issues for the sector.
"Our fantastic line up of speakers will give us an insight into the global outlook for the aquaculture industry, we will hear about the big changes to the sector and future plans to improve sustainability. Delegates will also have the chance to engage with a panel of leading aquaculture researchers and experts.
"We've been delighted with the response we've received so far with over 600 registrations and still a week to go, so if you haven't registered already do so now to ensure you don't miss out."
Louise Buttle, Global Aqua Marketing Director at DSM said: "DSM have an ambitious sustainability agenda within animal health and nutrition and are delighted to be sponsoring the Aquaculture UK Virtual Summit around this important topic. We look forward to presenting and having an insightful discussion on Healthy & Sustainable Fish, applying optimum nutrition to unlock the full potential".
To view the full list of sessions, and to register for free, visit the Aquaculture UK website.