Vard to build offshore farm platforms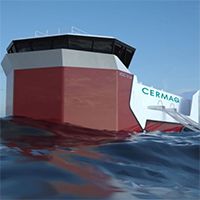 VARD, the specialised shipbuilder with a track record in the oil and gas industry, has won a contract to construct two offshore fish farming platforms for Cermaq.
The platforms are specially designed for fish farming operations in a harsh environment, and have a capacity for 600 tonnes of fish feed, as well as separate areas for storage, veterinary services, a workshop and accommodation for a crew of eight people.
They are of Vard 8 54 design, developed by Vard Design and Vard Aukra in close cooperation with Cermaq Norway, and will be delivered next year.
In November 2016, Vard strengthened its presence in the aquaculture sector with the acquisition of Storvik Aqua, a leading equipment supplier to fish farms.
In the Cermaq design process, Vard used its experience in the design and construction of offshore vessels for the analysis of the platform's motions in rough sea.
The equipment on board includes cranes, a stabilisation system, a light support workboat, and Vard's new feeding and monitoring system.
The platforms are tailor made for safe and good sea keeping performance, low fuel consumption and environmentally friendly operations.
Other features include four generators controlled by Vard's SeaQ Power Management System, and the company's newly developed SeaQ Control and Monitoring Station for handling of the platforms' equipment and systems. The SeaQ product portfolio is developed by Vard Electro in Norway.
Delivery of the platforms is scheduled from Vard Aukra in Norway in the second and third quarters of next year.
Vard said it is continuously developing vessels, barges and fish farming technology to help customers build sustainable and efficient aquaculture operations – inshore, offshore, at sea and on land.
Cermaq, owned by Mitsubishi, is one of Norway's major salmon producers.