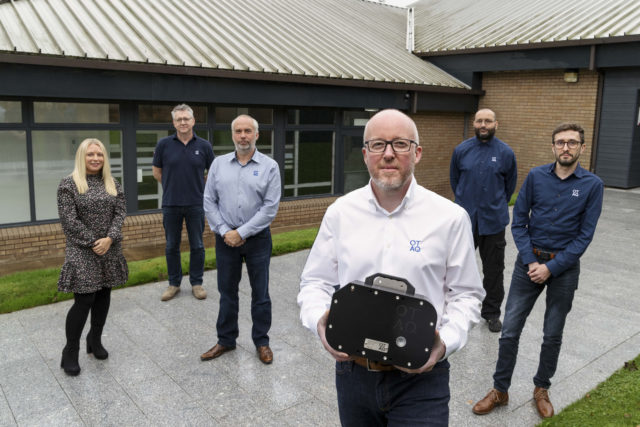 OTAQ Casts its net into new tech waters
Technology has revolutionised fish farming in recent years with developments making it easier for the industry to implement a more efficient and environmentally sound approach. Leading that revolution with flag firmly in hand is underwater technology specialists, OTAQ Group.
OTAQ designs, develops and supports marine technology products and solutions for the global aquaculture industry as well as for offshore industries. Their marine technology portfolio includes market-leading intelligent acoustic deterrent system, SealFence, designed to protect marine-based aquaculture sites from predation, with multiple systems deployed in Scotland, Chile, Finland and Russia.
Chris Hyde recently stepped into the role of Chief Technical Officer having filled the position of Chief Commercial Officer since 2015. A founding member of the OTAQ team, Chris has over 25 years' experience in systems and technology for aquaculture and offshore energy and has steered the team to develop industry leading systems for offshore energy markets, including IP cameras, leak detection, laser measurement systems, connectors and penetrators.
Talking about the company's product range, Chris said: "The Oceansense leak detection systems have a global reputation as the industry standard solution and have been deployed successfully on hundreds of jobs. Dragonfish laser measurement system is fast becoming recognised as one of the most accurate underwater precision laser measurement systems available and OTAQ also has significant experience in the design & manufacture of underwater connectors, penetrators & communication systems."
With 43 employees in four worldwide locations; Lancaster, Aberdeen and Ulverston in the UK and Puerto Montt in Chile the company seeks to develop and continuously improve its products using its specialist mechanical, electronic and software engineers with decades of experience in bringing underwater technology products to market. The highly skilled team has recently been bolstered with the appointment of Maurice Coull as Chief Engineer.
Chris said: "Underpinning any appointment within our engineering team is OTAQ's aquaculture product development plan, focusing on driving innovation and delivering new product lines.
"Maurice is an accomplished engineer within the Diving and Remote Technology sector and will drive that product development, where several ongoing long-term projects are in progress including algal bloom analysis, video-based AI technologies and control and data platforms.
"OTAQ's live analysis system detecting plankton and algae, and the specific species present is currently in stage one. Salmon farmers and companies will be able to deploy the system in different parts of the world detecting if the algae is harmful to salmon.
"Stage two is expected to become part of a predictive modelling system, looking at historical information which will allow predictions of when similar situations are likely to occur again, creating a much more effective and efficient process.
"Our Aberdeen based engineering team also has several video based and video processing system research projects underway, benefitting from team's vast experience in this area. This is a really exciting time for product development and innovation and we're in an extremely strong position to create technology that will have significant benefits for the fish farming, marine and offshore industries across the board."
OTAQ Group aim to increase investment in research projects, across all areas of the business, as part of their strategy to drive growth and increase turnover to 50m by 2025. Hyde continued,
"Our efforts are focussed on several research projects which we are delighted to be involved with. We are regularly on the lookout for opportunities to invest in and support with new technology developments within marine and offshore sectors. With our growing and experienced engineering team in place, we are confident that we'll remain at the forefront of underwater technologies."
For more information about OTAQ please visit www.otaq.com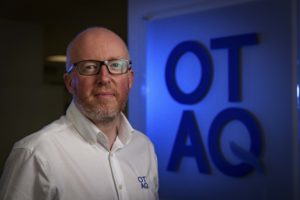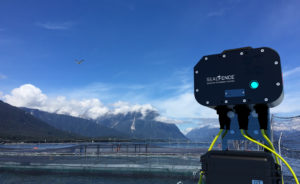 Captions
1: Chris Hyde
2: OTAQ Sealfence in operation in Chile
Featured: OTAQ's Aberdeen team