Undersea cable to help curb emissions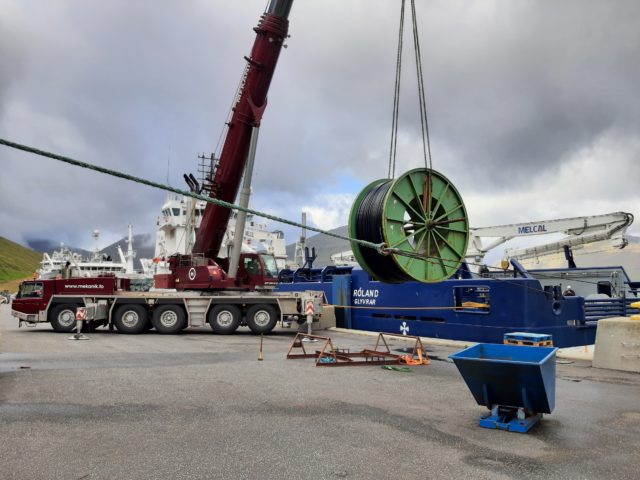 Faroese salmon farming company Bakkafrost has completed the installation of an undersea cable to one of its more remote sites which should eventually lead to a 50% reduction in CO2 emissions.
At 5.6km, it is also the longest underwater cable on the islands and will provide power to the location. The installation is part of Bakkafrost's policy to move to more sustainable power consumption.
The majority of Bakkafrost's feeding barges in the Faroe Islands are powered by sea cables from land.
The latest sea cable project and the existing cables have been organised and installed by the local Faroese company, JT electric, throughout the islands.
Jón Purkhús, Bakkafrost North's farming manager, said: "Our goal is to reduce our CO2 emission with 50% by 2030. By using sea cables to supply our feeding barges with electricity from land we are reducing oil usage and thereby significantly reducing emissions from our fish farms."
Designed by JT Electric and its cable partner, the cable is also fitted with interior fibre capable of delivering high volumes of data. The company said installing the fibre connection along with the power supply has ensured the site now has a fast and safe link to enable control of the equipment on board the feeding barge.
As all operations are undertaken remotely from the land based feeding site, a smooth connection was essential, JT Electric added.
Founded in 1972 by Joannes Thomsen, the company began producing underwater lamps and cameras for the local salmon farming industry 12 years ago, and is now one of the world's leading providers of this technology, carrying out much of its work overseas.