UK prepares for final EU quota talks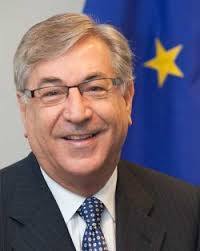 WITH Britain approaching its last full year in the Common Fisheries Policy, the European Commission has published its North Sea and Atlantic catch quota proposals for 2018 ahead of the December summit.
And there is better news on North Sea cod, where there could be a significant increase, and other species popular in Britain, such as haddock.
The Commission said that out of the 76 stocks up for review, 56 will either be increased or remain the same next year.
However, it is calling for a reduction in at least 23 species, including proposals for lower plaice quotas in the Celtic Sea and a zero blue whiting quota west of Scotland.
It says that as the size of some key fish stocks is increasing – notably for sole in the North Sea, northern hake and southern horse mackerel – so is the profitability of the fishing sector, with an estimated 1.5 billion euro profit for this year.
Karmenu Vella (pictured), EU fisheries commissioner, said: 'Our fleet is becoming more profitable and that is because some of the EU's key fish stocks are healthier and more abundant.
'The perseverance of the fishermen and the responsible fisheries management decisions stand to prove that sustainability and profitability can go hand in hand.
'That being said, now is not the time for complacency. We must continue our joint efforts to manage our seas and oceans in a way that works for the environment, for the economy and for future generations.'
The EU claims it has made important progress over recent years, with 44 stocks now fished at maximum sustainable yield (MSY) levels, up from only five in 2009.
The objective under the Common Fisheries Policy is to have all stocks fished at sustainable levels by 2020, although by then the UK will not be part of the CFP.
The proposals will be submitted for discussion and decision by the member states at the Fisheries Council meeting in Brussels from December 11-12.