UK government funding for Scottish fisheries and aquaculture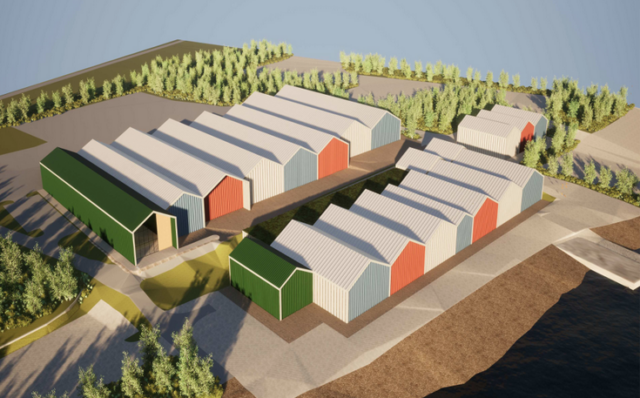 Mowi's planned broodstock project at Ardessie, the Scottish Sea Farms post-smolt facility at Barcaldine and mussel farmer Inverlussa Shellfish are among the recipients of the latest round of UK Government funding for the Scottish fishing and aquaculture sectors, through the UK Seafood Fund.
A total of £18.7m is being awarded to 10 projects across Scotland through the Infrastructure Scheme to improve capability at ports, harbours, processing and aquaculture facilities. In addition, £2.1m is being allocated to four Scottish projects through the Fisheries Industry Science Partnerships (FISP) scheme to provide vital research that will inform fisheries management.
Over £74m in match funding from alternative private or public contributions is supporting these projects.
The Ardessie project is intended to secure a supply of salmon eggs for Mowi in Scotland. Based on the shores of Little Loch Broom, Ross-shire in north west Scotland, the new facility will replace an existing hatchery building. When complete, Mowi said, it will offer eight to 10 direct new jobs and supply chain opportunities to the local region. The grant is worth £5m.
Scottish Sea Farms receives a grant of £5m for its post-smolt site at Barcaldine which is being planned as an extension to the company's existing hatchery there. The new building will be placed between the hatchery and the shoreline, enabling easy transfer of the smolt to wellboats. The new facility will enable Scottish Sea Farms to grow the smolts to a larger size before transfer to sea pens, improving their chances of thriving at sea.
Inverlussa Shellfish is an award-winning mussel producer operating in Loch Spelve on the Isle of Mull. The grant funding of £200,000 will enable the company to upgrade its mussel farm and shore-based hub, with a renewable energy supply.
Other funded projects include upgrades to seafood processing facilities in Aberdeen, Peterhead, Fraserburgh, Tarbert, Berwickshire and Lerwick in the Shetland Islands.
A total of £2.1m has been granted for research projects covering scallop, nephrops (langoustine) and ling fisheries. A total of £800,000 in match funding from alternative private or public contributions is supporting these projects.
Funding has also been made available for the catching sector across the UK to replace or modernise fishing vessel engines to reduce emissions, improve reliability and enable new technologies to be tested. The scope for the Fleet Modernisation Round is being extended to include all commercial vessels.
UK Government Minister for Scotland John Lamont said: "I'm delighted that almost £21m in UK Seafood Fund investment is being shared across 14 Scottish projects. The fund is a crucial part of our commitment to help level up coastal communities and deliver the Prime Minister's priorities of growing the economy and creating better-paid jobs and opportunity right across the country.
"We are supporting fishing communities across the UK so they benefit from better infrastructure, new jobs and investment in skills to ensure they have a long-term and sustainable future."