Turning carbon dioxide into fish feed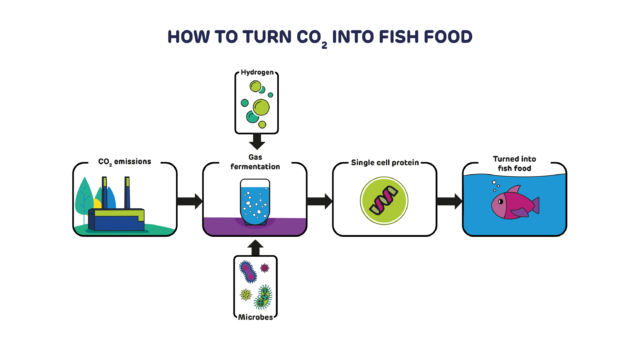 A PROJECT to capture carbon dioxide emissions to create animal feed protein has been launched by a UK start-up in collaboration with a power station.
Deep Branch Biotechnology, a Nottingham University based company, plans to use flue gas from one of the biomass power generation units of Drax, in North Yorkshire, along with hydrogen, to enable gas fermentation to take place.
The resulting product is single cell protein, which comes out as a milk-like liquid when harvested. It is then dried into powder and 70 per cent of what remains are proteins that can be used as a fishmeal replacement.
One of the advantages of Deep Branch's system is that rather than requiring energy to separate CO2, flue gas can be delivered directly to microbes.
This can convert up to 70 per cent of the captured CO2 into proteins. But for such a system to have a real impact it needs to be deployed at scale.
The process has been trialled in labs and proved highly efficient, with 10kg of CO2 producing seven kilos of protein.
Now, the partnership with Drax -the biggest renewable electricity generator in the UK – offers the opportunity to test Deep Branch's process and technology at grid-scale.
Peter Rowe, Deep Branch CEO, said: 'Because Drax's biomass units are carbon neutral at the point of generation, the process creates an extremely low carbon protein.
'If you divorce the negative environmental impacts of industries like agriculture from its growth then you can provide more whilst impacting less.'