Troubled company granted extra farm licences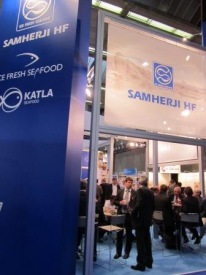 ICELAND'S largest fishing company has landed a larger than expected operating licence to produce up to 3,000 tonnes farmed fish at Grindavik on the south western tip of the country.
Samherji had originally applied for permission to cultivate 1,600 tonnes of salmon and char, but later asked for an increase.
Now Iceland's Food and Veterinary Authority, known as Mast, has given the go ahead for the additional 1,400 tonnes.
Mast said the application will have no significant environmental impact on the area and it received no letters of objection.
The news will come as welcome relief for Samherji, which has found itself embroiled in a corruption scandal in Namibia over cash for fishing quotas, involving Samherji subsidiaries in the south west African state .
Two senior Namibian ministers, who are said to have received millions of dollars for the granting of licences, have been forced to resign and are now in police custody likely to face trial. The ministers reject the allegations.
Samherji's CEO, Thorsteinn Már Baldvinsson, who has strongly denied any wrong doing by the company, has temporarily stepped aside until the issue is sorted out.
Thousands of documents relating to the scandal, which has rocked Iceland and led to political protests in Namibia, have been released by WikiLeaks while the Icelandic magazine Stundin and a TV show called Kveikur have also published allegations.
Samherji's interim CEO, Björgólfur Jóhannsson, has written to all company employees this week saying a large part of the accusations against the company were totally unfounded. He has urged them to be patient while the whole thing is investigated.
The company is now studying the allegations and has pledged to respond to them in due course.
Samherji is one of the North Atlantic's fishing industry giants. It owns a large trawler fleet, along with extensive processing operations.
It also has catching and other interests in Scotland and a fish processing facility in Grimsby. Fish farming is a relatively modest activity within its extensive portfolio but it is starting to grow.