Top trainees make Lantra awards shortlist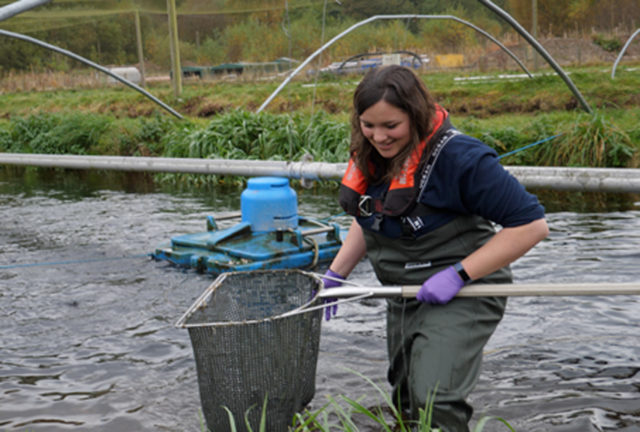 THREE aquaculture trainees have made the shortlist for Lantra Scotland's annual awards, with the winners to be announced in March.
The Awards for Land-based and Aquaculture Skills, or ALBAS, celebrate the achievements of learners in land based, aquaculture and environmental conservation industries.
Representing aquaculture this year will be Jimmy Dakin of Scottish Sea Farms, John MacPherson of Grieg Seafood Shetland, and Valentina Romano of Dawnfresh Seafoods.
Dakin, aged 32 from Sandy, Orkney, has been doing an SVQ with Scottish Sea Farms through NAFC Marine Centre UHI.
He said: 'I have a passion for the sea and marine life so it is great to live and work in Orkney. The island has one of the best aquaculture environments, with its clear waters and strong tidal flow.
'I struggled with dyslexia and ADHD when I was at school, so achieving SVQ level 2 and 3 in aquaculture over the last two years is a monumental achievement for me.'
MacPherson, aged 23 from Portree, Isle of Skye, has been doing a Modern Apprenticeship in Aquaculture with Grieg Seafood Shetland through Inverness College UHI.
He said: 'I find myself learning something new every day, which is one of the things that makes working in this industry so rewarding.
'My Modern Apprenticeship in Aquaculture gave me the knowledge and guidance to get me where I am today, and the extra effort I put into the apprenticeship undoubtedly helped with my promotion.'
Romano, aged 29 from Brechin, has been doing a Technical Apprenticeship in Aquaculture Management at Dawnfresh Seafoods through NAFC Marine Centre UHI.
She said: 'The Aquaculture Management Technical Apprenticeship at NAFC has enabled me to learn valuable skills whilst maintaining my position at work and applying this new knowledge at my site.
'The aquaculture industry is very rewarding as we work in the most stunning Scottish landscapes and our days are never the same.
'I love how varied my role is and all the different opportunities for growth and further development offered by my company.'
The Lantra awards feature categories for the agriculture, aquaculture, equine, horticulture, game and wildlife, trees and timber, land based engineering and environmental conservation industries, as well as Higher Education, Rural Schools, Modern Apprentice of the Year, CARAS (Council for Awards of Agricultural Societies) and a new Partnership Working Award.
The awards ceremony will take place at the Doubletree by Hilton Dunblane Hydro Hotel on March 5, 2020.
The highlight of the evening will be the announcement of the Learner of the Year Overall Winner. This goes to an outstanding trainee who has demonstrated exceptional ability, hard work and a passion for their industry.
The finalists for the 2020 ALBAS were chosen by an independent judging panel made up of influential figures from across the land based and aquaculture sector and chaired by agriculture and rural affairs journalist Erika Hay.
Liz Barron-Majerik, director of Lantra Scotland, said: 'I'm delighted to announce the finalists for our 2020 Awards for Land-based and Aquaculture Skills, the ALBAS.
'As well as playing a key role in promoting the importance of gaining qualifications and developing skills, for trainees and employers, the ALBAS showcase the achievements of new entrants and career changers in our sector.
'All those nominated, whether finalists or not, should be extremely proud of this recognition, and we look forward to celebrating their success.'