Top marks for Peterhead's new market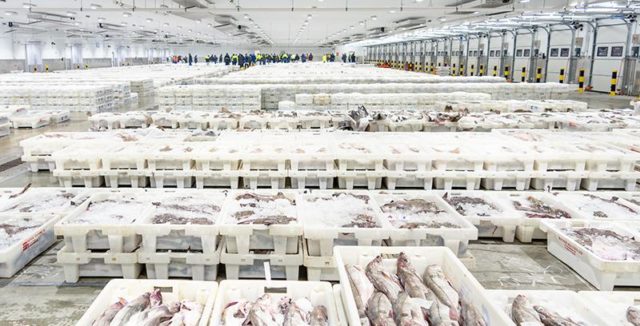 THE new Peterhead fish market has secured the highest AA food safety and quality rating just three months after opening for business.
Assessors from BRC Global Standards granted the market its gold standard award following rigorous analysis of every aspect of daily operations.
Peterhead Port Authority chief executive Simon Brebner said: 'Winning this accreditation, which will bring added value throughout the supply chain and advertise Peterhead as being synonymous with the highest quality seafood produce, is a great achievement.
'It is testament not only to the hard work of staff and management here at the port, but to that of the skippers, buyers, agents, processors and transportation companies who make the market tick.
'It's a fully fit-for-purpose new building and we will ensure that the high standards we have set and that have been recognised by BRC become the 'new normal'.'
Allison Sherrington, the market's quality advisor, said Peterhead strives to be the front-runner in food standards and quality.
She said: 'I could not be more proud of the team here at Peterhead Port Authority who have made this great result possible.'
The auditors assessed: senior management commitment and continual support; the food safety plan; the food safety and quality management system; site standards; product control; process control; and personnel.
The formal opening of the market by HRH Prince Charles, Duke of Rothesay, will take place on Saturday, September 29.