Top eco-ranking for Canada's first land-based salmon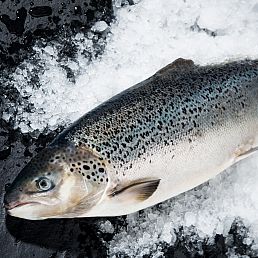 CANADA's first land-raised Atlantic salmon has achieved the top sustainability ranking issued by the world's leading independent eco-ranking program.
Kuterra Land Raised Atlantic salmon has received the highest ranking issued by the Monterey Bay Aquarium's Seafood Watch program, giving the company a Seafood Watch and SeaChoice green, 'Best Choice' recommendation. It also makes the product Ocean Wise.
'We are delighted that the third-party assessment conducted by the Monterey Bay Aquarium has validated Kuterra operations as one of the most sustainable Atlantic salmon aquaculture operations globally,' says Garry Ullstrom, Kuterra CEO.
'Environmental sustainability is the goal at the heart of Kuterra's mission, and this ranking shows we're achieving that.'
The Monterey Bay Aquarium assessment examined three land-based facilities currently operating globally: in British Columbia, West Virginia and Denmark.
All three received the top, green ranking. The three farms are considered representative of current practices in land-based closed-containment aquaculture globally, which makes the ranking applicable to other similar land-based Atlantic salmon farms as they develop.
'The exceptional market demand for Kuterra salmon shows that consumers have been waiting for a sustainable Atlantic salmon option that's good for them and good for the environment," says Guy Dean, Vice-president, and Chief Sustainability Officer for Albion Fisheries, Kuterra's marketing partner.
'We are proud to be among the first in the world to offer this green "Best Choice" seafood option to consumers.'
Kuterra Land Raised Atlantic salmon was launched in the market in April of this year. It is currently available for sale in British Columbia and Alberta, and is appearing on the menus of a growing number of fine restaurants.