Three aquaculture trainees win at Lantra's ALBAS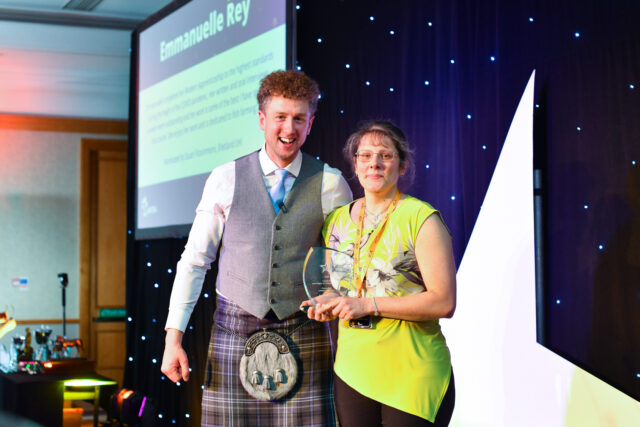 Aquaculture trainees from Scottish Sea Farms, Grieg Seafood and Dawnfresh have been recognised in this year's ALBAS awards.
The ALBAS (Awards for Land-based and Aquaculture Skills) are organised by training body Lantra Scotland, and the event took place last night at the Doubletree by Hilton Hotel Dunblane Hydro.
Emmanuelle Rey aged 43 from Glendevon, Dollar won the Aquaculture Learner of the Year category, while 27-year-old Emily Underhill from Oban, who trained with Grieg Seafood Shetland (now part of Scottish Sea Farms) took the runner up spot.
Rey works in a hatchery role with Dawnfresh Farming and  has completed a Modern Apprenticeship in Aquaculture with Shetland UHI.
Emily Underhill is working as a Freshwater Fish Health Biologist for Scottish Sea Farms. She said: "It's an honour to be selected for these awards. Working in aquaculture is a fantastic career and I can't wait for the next chapter."
Meanwhile Derek Ferguson, aged 33 from the Shetland Islands, won a Higher Education SCQF Level 9+ Award. He is doing a Technical Apprenticeship in Aquaculture Management at Grieg Seafood through Shetland UHI. He said: "It's been a great evening, and to come away with a Higher Education Award is fantastic. Thanks to everyone who has supported me along the way."
 Having taken place as a virtual event last year due to Covid restrictions, the ALBAS returned to Dunblane with more than 180 finalists, event supporters, employers, training providers, industry leaders and Cabinet Secretary for Rural Affairs and Islands Mairi Gougeon attending.
Ms Gougeon said: "What a great night spent honouring some hardworking and inspiring people across Scotland's land-based and aquaculture sectors. I just want to put on record what a truly spectacular group of individuals we have in the finalists and winners. I'm so proud to see the incredible work they are already doing and look forward to seeing them all continue in their careers."
Sheep farmer and social media star Cammy Wilson presented the winners and runners-up awards for agriculture, aquaculture, equine, environmental conservation, game and wildlife, horticulture, land-based engineering and trees and timber.
As well as prizes for Overall Winner, Runner-up and Modern Apprentice of the Year, there were also awards for Higher Education, School Pupil and Secondary Schools, CARAS (Council for Awards of Agricultural Societies), Jean's Jam for inspirational tutor, the Tam Tod Trophy for outstanding young learner, and the Anna Murray Award for Partnership Working.
The winners and runners-up for ALBAS 2022 were chosen by an independent judging panel made up of influential figures from across the land-based and aquaculture sector, chaired by Keith Paterson of Forestry and Land Scotland.
The ALBAS are organised by Lantra, the sector skills council for the land-based, aquaculture and environmental conservation industries.