The November issue of Fish Farmer is online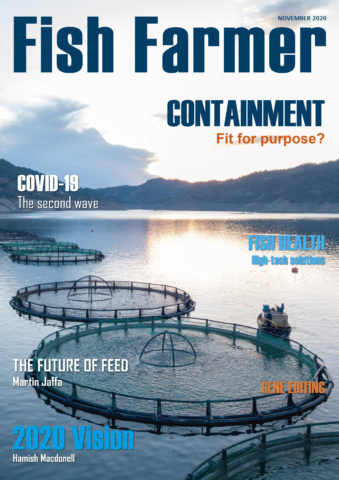 The November edition of Fish Farmer Magazine has now gone to press and you can view the online version here.
In this issue we feature the bold blueprint for a sustainable salmon farming industry in Scotland, A Better Future For Us All, and the SSPO's Hamish Macdonell gives an insight into the thinking behind this ambitious plan.
We take a look at two examples of land-based aquaculture, Atlantic Sapphire's salmon farm and the lobster growing project at the Orkney Shellfish Hatchery.
Vince McDonagh explains how China's tighter import regulations are affecting European salmon producers, and Sandy Neil analyses the impact of the "second wave" of Covid-19 on the industry.
The cover story for November addresses containment – keeping the fish in and the predators out – and how technology is offering new approaches to old problems.
Elsewhere in this issue, you can read about the latest developments in fish health and welfare, comment from industry experts Martin Jaffa and Nick Joy and, of course, the latest aquaculture and processing news from around the UK, Europe and worldwide.